Bent Mountain Falls in Montgomery County, Virginia
Dropping over 200 feet, Bent Mountain Falls is the 2nd highest waterfall in Virginia!
Located inside the Bottom Creek Gorge Preserve, the Falls are best viewed from an overlook along the Johnston Trail (red markers). When water levels are lower, one could bushwack along Bottom Creek to the foot of the Falls but its true height is obscured.
Directions
It is best to just follow our Google Map for the exact location. 
Make your way to Bottom Creek Lane (SR-637) and look for the bridge where the road crosses Bottom Creek. Turn west on the unpaved road for a short distance until you reach a gate. Do not block the gate when parking!
Please be aware – no dogs allowed.
Trail Map

The Trail
It is a strenuous hike (4.75 miles round-trip but a bit shorter if you stay on the Johnston Trail only) so come prepared. You walk a short distance until you reach the information board where you will be introduced to the three trail options – red, yellow or blue. We prefer the outer loop (Red – Yellow – Blue) in order to see the actual Bottom Creek and to see some of the other sights as explained on the information board.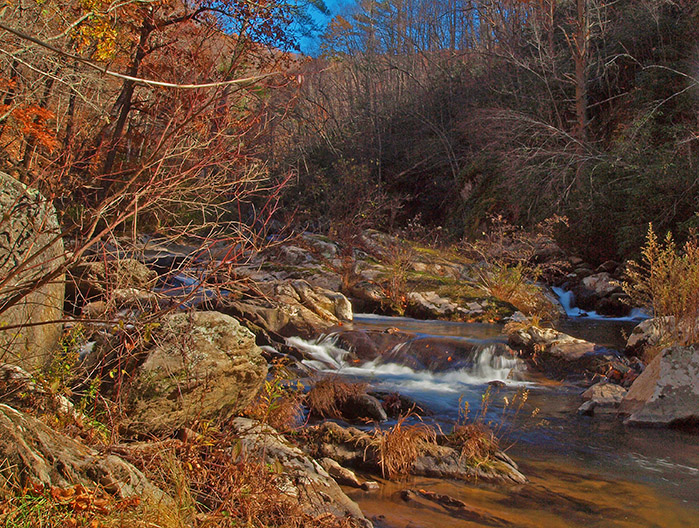 It is 1.6 miles from the parking lot to the Creek and 2.4 miles to the Falls Viewpoint when using the Yellow Trail.
Trail Profile

   Trail Slide Show