Safety Kit for Waterfall Hiking
The mountains of Virginia can be dangerous and a safety kit is essential for adventurers looking for waterfalls! This is especially true in Shenandoah National Park where the most impressive waterfalls require serious backcountry hiking – also known as bushwhacking!
Hiking is much more pleasant when one is prepared and confident. Over-confidence and plain stupidity, however, can be fatal. Know your capabilities and plan for the unexpected.
Here are my tips for staying safe while hiking to the waterfalls of Virginia.
General Observations
Fortunately one can enjoy most of Virginia's waterfalls after short walks or hikes on busy and well-maintained trails. Folks walk in flip-flops and swimwear (for dipping in the cool water)!
Should something go wrong help is nearby thanks to the crowds on most days as well as the good road systems to the trailheads.
But when you get more serious about photography your hiking patterns change:
You often hike in the dark to catch a sunset or sunrise at a waterfall
You study weather forecasts and go when heavy rain is expected or on cloudy days (best for long-exposure images)
You rock-scramble to precarious positions for better angles and light-situations
You hike off-trail (bushwack) in search of undiscovered waterfalls and scenic nature photo opportunities
You carry photo equipment that can be bulky (tripods for example)
You often hike alone. Not by choice but partners who share your enthusiasm are hard to find.
If you are interested in getting away from the beaten trails and discover spectacular waterfalls and scenery then read on! The next sections are for you!
Basic Safety Gear and Tips
Here are a few essential safety tips for everyone regardless of capability and experience.
Hike with a Buddy
There are safety in numbers and if you have a compatible hiking partner try and team up.
Often a hike can be much easier if you have two vehicles and park one at the trailhead and the other at the end of the hike. In Shenandoah for example this  can save a lot of hiking time if you can hike down and avoid the return trip uphill!
Having said all that, an incompatible hiking partner can slow you down and even add dangers to your hike. If you plan for a 3 hour hike but end up struggling for 6 hours with a slow partner then you may run out of water, daylight and many other problems could pop up. If you have a strong partner who are an experienced rock climber then he/she may put you in danger by encouraging you to go beyond your comfort zone.
So it works both ways.
I hike alone and prefer it that way. I hike to my capabilities and I plan accordingly.  I compensate for the lack of a buddy by being well-prepared.
In summary, if you have a compatible hiking partner then consider yourself very lucky and enjoy the company!
Leave a route plan
Tell your wife or boyfriend or family member where you are going, how long you plan to hike and when to expect you back.  Always do this.
Failing this, leave a printed plan in your car at the trailhead. This will give the rescuers an idea of where to look especially when there are many trails in the region.
Study the area of your hike and print a paper map
Yes, I have a phone and a GPS but I ALWAYS have a printed topology map of my hiking area. Topology maps are excellent for discovering potential waterfalls and showing steep versus flatter areas in case I need an alternate route.
I use Garmin's Basecamp in combination with my GPS to study/print the topology.
Create important waypoints for your GPS
Before every serious hike I add a dozen or so landmark waypoints in my GPS. The parking area, the estimated positions of waterfalls, estimated junction points with other trails, estimated positions of streams/creeks and so on.
This is very easy to do with Garmin's Basecamp.
With these waypoints I have reference points to aim for. It prevents me from wandering aimlessly and getting lost.
Remember in the thick woods one has no reference points. You cannot see the sun and since I hike mostly on cloudy days it becomes almost impossible to find east or west!
Bring a GPS
A phone alone is not good enough. I use my phone to take quick pictures and video but mostly I try to keep it fully charged in case I need it in an emergency.
I use a small Garmin GPS and will not hike without it.  There are many kinds but the best GPS will have a "trailing" or "breadcrumb" setting. This allows one to see where you've been making it easy to retrace your steps.
Wear the proper clothing
Do not venture off-trail in the Virginia mountains without proper hiking gear.
I am not going into details here. What to wear depends on many factors including the weather and the expected condition of the trails.
In Shenandoah I can tell you the going gets very rough. If you bushwhack you can expect clusters of 6 feet tall thorny plants and stinging nettles of all kinds. There are trees on the ground with underbrush so thick you can hardly see through. The ground is spongy and you can sink into swampy stuff up to your knees when you least expect it. The rocks near the waterfalls are very slippery and mostly impossible to navigate. Most of the time you have to hike a wide circle to get from a lower waterfall to another further upstream.
Your clothes must help protect against:
Thorns and stinging plants – long pants, long sleeves, gloves
Poisonous snakes (bulky pants for example worn over hiking boots)
Rain, sweat and sun – quick-dry materials work best
Bugs (Mossies, gnats and ticks) – treat your clothes with repellent and pack a headnet
Use thick socks and make sure your boots are worn. Blisters are unwelcome when bushwacking!
About Ropes
If you are hiking to waterfalls near high cliffs it makes sense to think of ropes, correct?
I do not carry ropes.
If you are a rock-climber who understands the mechanics of ropes then go for it. Otherwise, ropes will give you a false sense of security that may kill you.
When I see a rock-face that may require ropes I take a detour and avoid it.
I suggest you do the same!
I have yet to encounter a waterfall that could not be photograph because I did not have ropes.
Pack an Emergency Kit
I try to hike early in the morning giving myself plenty of daylight in case of an emergency.
Nevertheless, I am always prepared to spend a night in the woods. Hopefully I will be rescued before dark the second night but I can survive a few nights if I have to.
In the next section I discuss my Emergency Kit.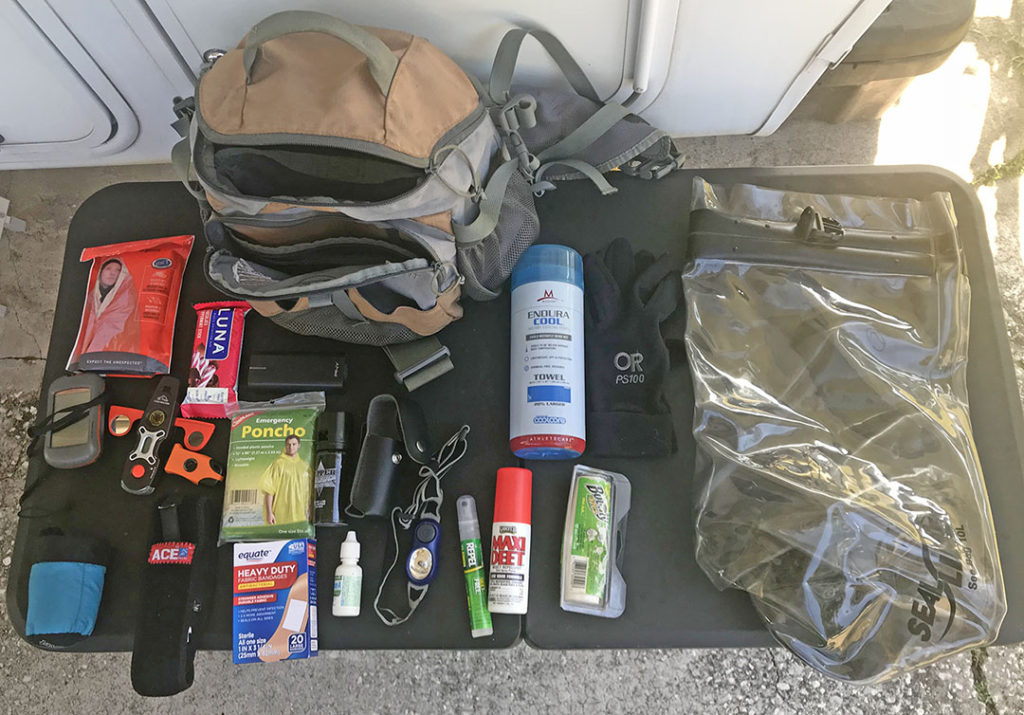 My Emergency Kit
I hike with a large fanny-pack! Not very manly but I prefer to not have a pack on my back. The reason is the thick woods. When I crawl underneath brush and tree branches, a backpack gets stuck.
I can swing my fanny pack to the back or front and even carry it when needed. It gives me easy and fast access to my emergency kit and water.
I carry (2 x 0.5 liter) of water for every 6 miles I plan to hike. In a major long-term  emergency I will drink water from the streams treated with pills. I do carry a small bag of Gatorade powder to help with dehydration after many hours of heavy sweating!
All my emergency gear is stuffed inside a dry-bag. When crossing streams and photographing waterfalls chances are I will slip and get wet. At least my emergency things will stay dry!
The key is to have all I need but stay very light-weight. Most things listed below are small and easy to pack.
NOTE – Not everything below is stored in my Dry Bag. For example, I wear the Cool Towel and the pepper spray.
Survival Tool – mine has a compass, mirror, whistle, light, some digital info such as temp, time and date, magnifying glass
Small swiss knife with wood saw (not shown in my picture)

Head net – to keep the gnats at bay

Knee Brace – can also be used on  arms and legs

Poncho – not to wear when hiking (will get stuck in the woods) but to stay dry at night

Charging battery pack for GPS and Phone. Remember the cables!

Bandaids
A few Protein or Energy bars
6-pack of water-purification tablets
Eye-drops – in case things get stuck in my eye
Pepper-spray – can be used for black bears but mostly when meeting strange people in the back woods

Maximum DEET – must deter everything including ticks
Toilet paper
Two Glow Sticks – helicopters can see these!

Cool towel – use as a headband, neck band, scarf or cap!