Port Everglades is consistently ranked one of the top 3 busiest cruise ports in the world and its close proximity to Fort Lauderdale International Airport makes it an ideal cruise port! You do not have to rent a car or ride a shuttle bus for an hour! Welcome to my Cruise Guide for Port Everglades including the most comprehensive cruise map!
In this section please find everything you need to know about cruising from Port Everglades – directions, hotels, shuttles, car rentals, parking, public transportation and more. All my posts are summarized towards the bottom of this page.
Port Everglades Cruise Terminal and Area Map
Here is a detail map of Port Everglades Cruise Ship terminals and popular hotels for cruise passengers. You will find accurate locations of:
Cruise Hotels
Port Everglades Rental Car Agencies
Cruise Terminals
Cruise Terminal Parking lots and garages
Public Transportation Maps
I also include information about Fort Lauderdale beaches, Hollywood and Las Olas as well as nearby attractions.
Please go here to open a full screen map in your browser – Cruise Port Everglades Map
Hotels near Fort Lauderdale Airport and Port Everglades
Parking at Port Everglades Cruise Terminals or Nearby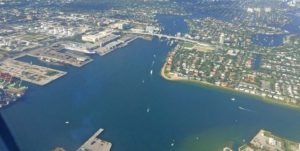 You are driving to Fort Lauderdale and wondering where your ship is docked! In this article you can see a ...
Read More
Transportation TO and FROM Port Everglades
Rental Cars at Fort Lauderdale Airport and Port Everglades
Rental Cars
Webcams – Fort Lauderdale and Port Everglades

The Best Webcams near Port Everglades I absolutely love webcams and are always searching for the perfect Port Everglades webcam! ...
Read More