How to get from Palm Beach International Airport to Port of Miami (PortMiami), or vice versa?
Cruise passengers find occasional cheap or convenient flights to PBI then wonder if it makes sense when compared to more expensive flights to MIA or FLL. It is roughly 75 miles (120 km) by road depending on the route.
Some Concerns
It depends! You have to consider your arrival time, the number of people in your party, your budget, the amount of luggage you are carrying, your mobility (walking and getting on/off trains and buses and vehicles), and so on.
If you land early there's the potential traffic delays between West Palm Beach and the Fort Lauderdale / Miami areas. During morning rush hour the highways are busy! (I-95, Florida's Turnpike and even Rte 1) .
Giving the uncertainty of the traffic situation, I generally recommend to avoid road transfers in the early morning (rental car, rideshare, taxi, shuttles) and to book a train ticket on either Tri-Rail or Brightline. After 9am, the traffic situation improves!
You also have to consider flight delays if you arrive on the morning of your cruise! It can get stressful if you arrive late AND you are still 2 hours or more from PortMiami!
Available Options
Nevertheless, here are your options:
Rental Car – I've seen rates as low as $55 one-way in a mid-size car. 1h30mins
Rideshare – Estimate about $80 for UberX (1 – 4 passengers with few bags). You may experience surge pricing during peak hours (just wait a while and try again). Pickup is on the Arrivals level.
Taxi – Don't. It is too far.
Shuttles – Shared shuttles are not readily available. Private transport will cost upwards of $180 per one-way trip (up to 4 passengers).
Rail – Tri-Rail or Brightline to Miami (no service to PortMiami). Tri-Rail has a free shuttle from PBI to the station. Fare is $6.90 plus cost of one transfer ($16). 2 hours. Brightline will cost $15 – $35 depending on options plus cost of two transfers ($13 + $16). 1h15mins
Rental Car Advice
Once you arrive in Miami, not all rental car companies offer free shuttle transfers to PortMiami! Be careful who you book with and where you drop off!
For rental car options with free shuttles to PortMiami, please read Rental Car Drop off with Shuttles.
Rail Advice
Unfortunately neither Brightline nor Tri-Rail stops at Palm Beach Airport. As shown on the map below, you need a transfer service to either station.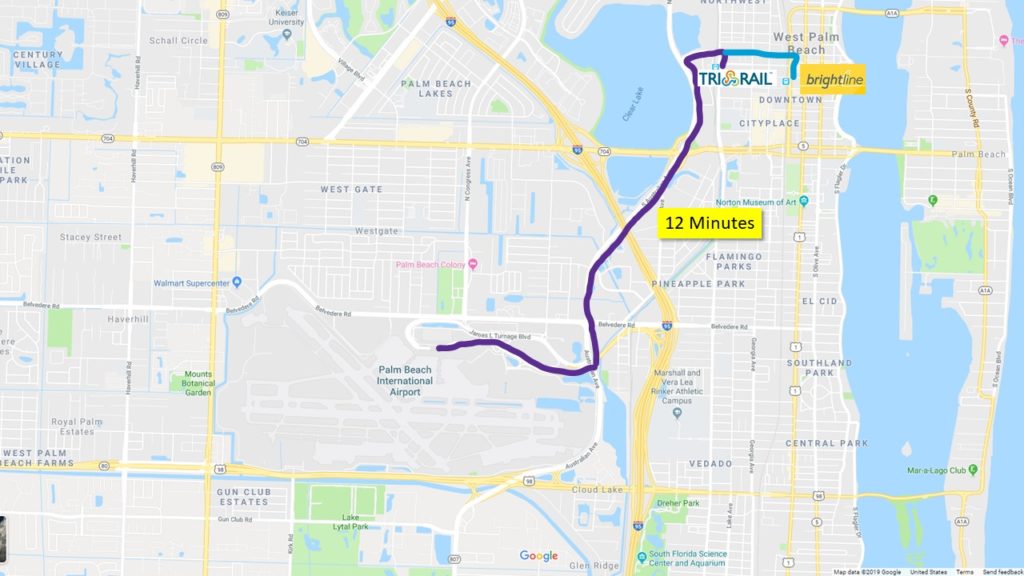 The Tri-Rail transfer is a free bus service. To board the shuttle to Tri-Rail from PBI, follow the signs in the airport to Ground Transportation. The stop is located on Level One, Baggage Claim- you will see signs for TRI-RAIL.
A rideshare fare from PBI to these stations cost about $13 per trip.
Brightline takes you closer to the Port of Miami. Their Miami station is connected to PortMiami via the FREE MetroMover and FREE Trolley bus (but this takes a long time) or use rideshare for about $8 (recommended).
With Tri-Rail you normally disembark at the Miami Airport Car Rental Center and take rideshare from there ($18 and recommended) . You can also exit at the Tri-Rail station and transfer to MetroRail to reach downtown from where you can rideshare or use the FREE trolley bus.
Links
Please visit Tri-Rail for fares and schedules.
Please visit Brightline for fares and schedules.