This is a complete blog and video guide to FREE camping in Dixie National Forest near Bryce Canyon National Park in Utah.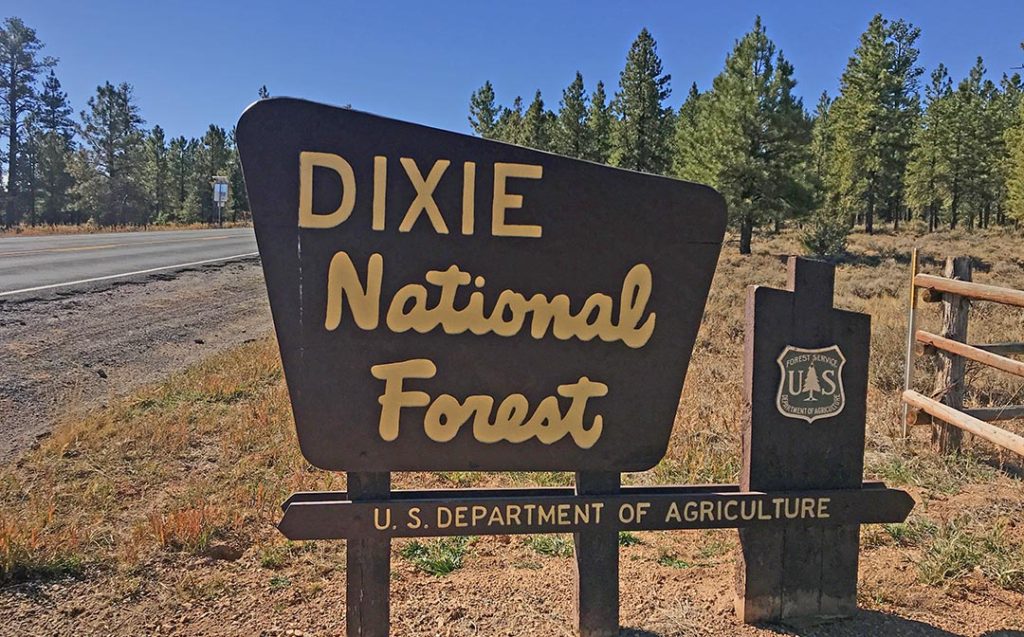 In this guide, you will find maps with directions, updates on road conditions, locations of most campsites, and availability of amenities such as cell coverage, water, and toilets,
About Bryce Canyon National Park and Dixie National Forest
Bryce Canyon National Park is almost surrounded by the Powell Ranger District of Dixie National Forest.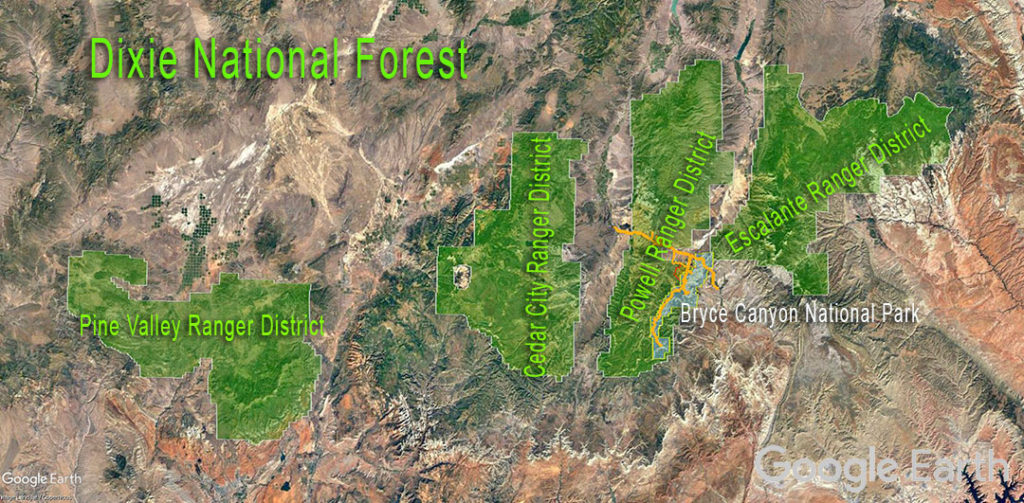 Dixie National Forest is divided into four Ranger Districts as shown on the map above. Our focus is the Powell Ranger District with an office in Panguitch, Utah. Phone: (435) 676-9300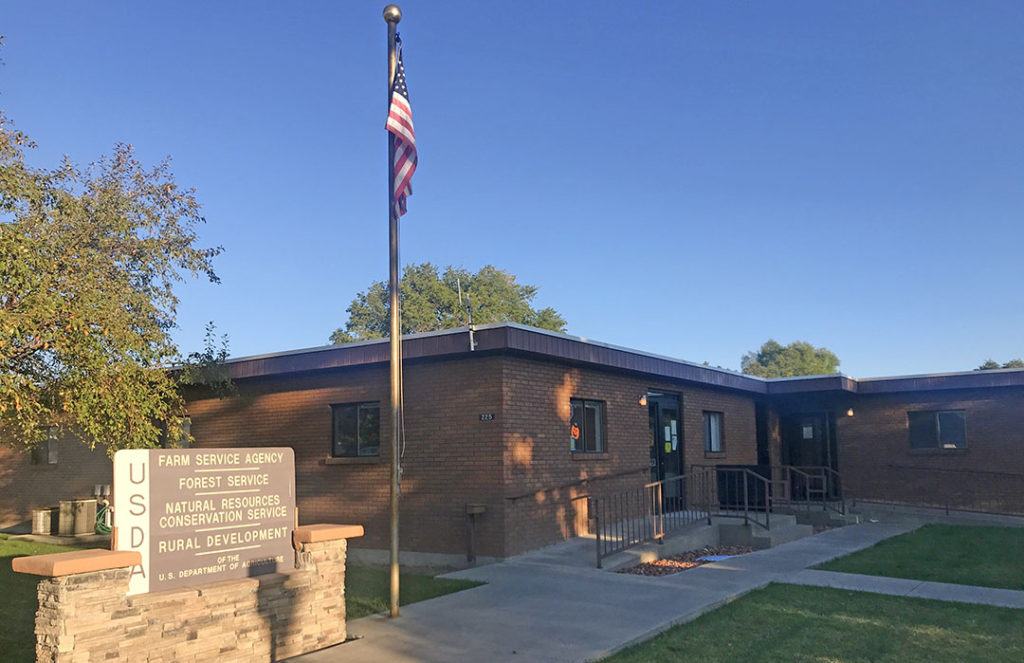 Maps and Directions
I highly recommend the Avenza Maps App!
Then download the free Dixie National Forest Powell Ranger District Motor Vehicle Use Map.
You now have live access to the Forest Roads (FR) and other roads in the areas near Bryce Canyon National Park. In this guide, I reference the FR numbers often.
Another important resource is the National Forest website – Dixie National Forest
The MAP section of the Dixie National Forest is crucial to visit and read – Dixie National Forest Maps.
Camping inside or near Bryce Canyon National Park
There are two campgrounds inside Bryce Canyon NP and several commercial campgrounds near the Park.
Dixie National Forest offers three FEE-BASED campgrounds near Bryce Canyon NP. I will not discuss them in this guide:
Red Canyon Campground
Coyote Hollow Equestrian Campground
King Creek Campground (a bit too far down a washboard road for easy access to Bryce Canyon NP)
Video footage of the FREE camping areas
I am working on a series of driving and drone videos to show what it's like to camp for free near Bryce Canyon NP!
Links will be posted as soon as these are available.
Recommended FREE Camping Areas in Dixie NF nearest to Bryce Canyon NP
You may camp in a dispersed area for up to 16 days. After 16 days, you must move at least 10 miles for camping in another dispersed area.
As shown on the map below, there are four popular FREE camping areas within an easy drive from Bryce Canyon NP. These are:
East Fork Road – many sites off forest roads from East Fork Road all the way down to the King Creek camping area
Dave's Hollow – a few campsites very close to the Park but beware of camping restrictions
Tom's Best Spring Road – many campsites in a large area with easy access
Corral Hollow – several campsites close to Red Canyon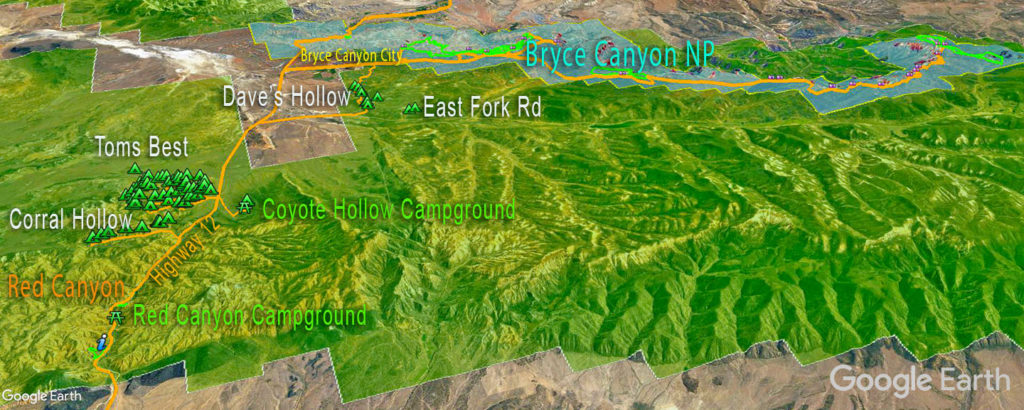 NOTE – What about Johns Valley Rd to the north of Bryce Canyon? You can see the green NF land to the very top left of the map above.
I know some folks camped successfully on the west side of Johns Valley Rd near a cow pasture but that is private land on all the maps I studied. I do not recommend it at this time.
Across the road on the east side, a few opportunities exist along with FR 419 and FR 418 towards Henderson Pt. I plan to check it out in the future.
Free Camping in the Dave's Hollow area
If you plan to spend a lot of time in Bryce Canyon then you can save travel time by camping in Dave's Hollow. It is the closest free camping area.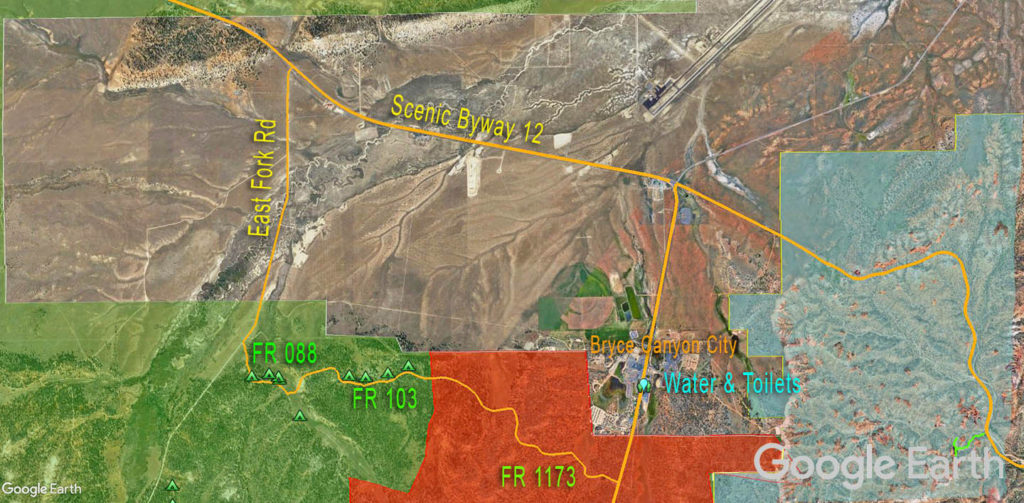 In the map above, you can see the campsites along with FR 103 and FR 088. There are probably a dozen or so sites depending on what you are looking for. Obviously, a travel van looking for a quick overnight has more options than a 40ft Toy Hauler hoping to stay two weeks.
There's nothing special about these sites in terms of views, etc but they are secluded and private (close to the road though), somewhat level and close to the Park.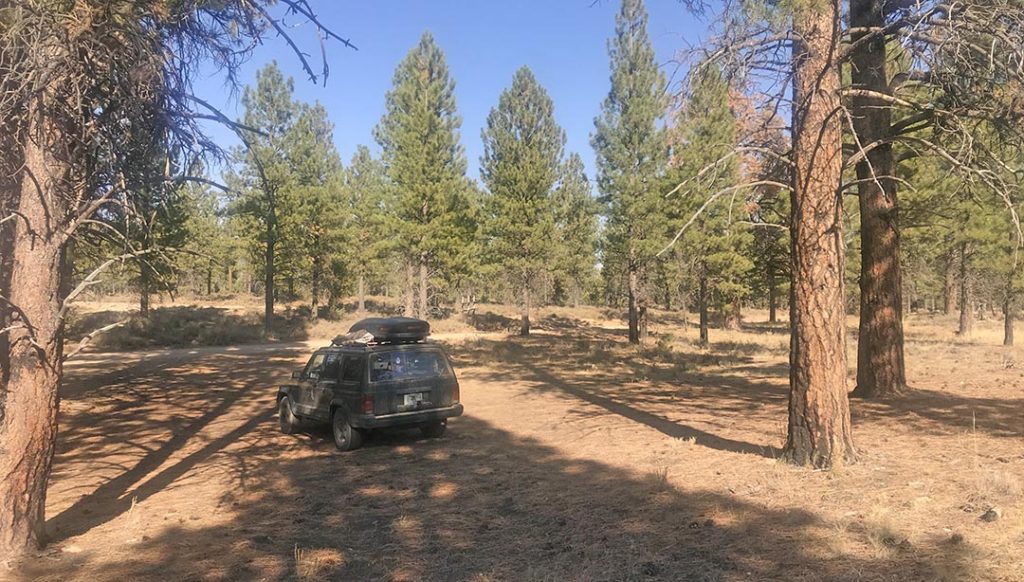 Access is from either East Fork Road or the Bryce Canyon main road. Both roads are doable in 2WD vehicles with travel trailers (in most weather conditions).
IMPORTANT – if you enter from Bryce Canyon on FR 1173 you must drive west for 1.7 miles to the NO CAMPING sign before looking for campsites!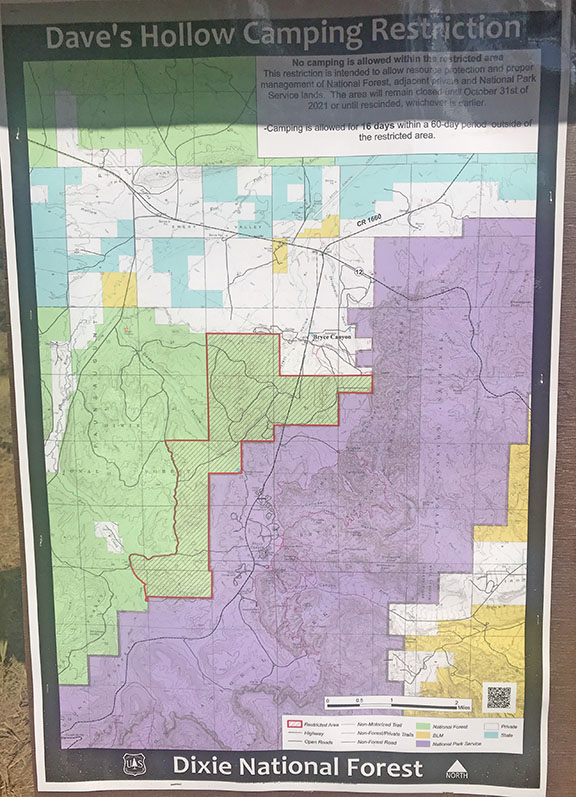 About potable water and toilets – as shown on the map I recommend the Bryce Canyon Shuttle Station in Bryce Canyon City. There is a water filling station in addition to toilets and with gas/groceries nearby.
Verizon has reasonable LTE service at these campsites.
Free Camping along East Fork Road
If you follow East Fork Road south past Dave's Hollow there are several Forest Roads branching to the east.
On the map below (down East Fork Road south) you can see 3 sites along with FR 1164. These will do in a pinch but try elsewhere first. During my last stay, East Fork Road was very bumpy and unpleasant to drive.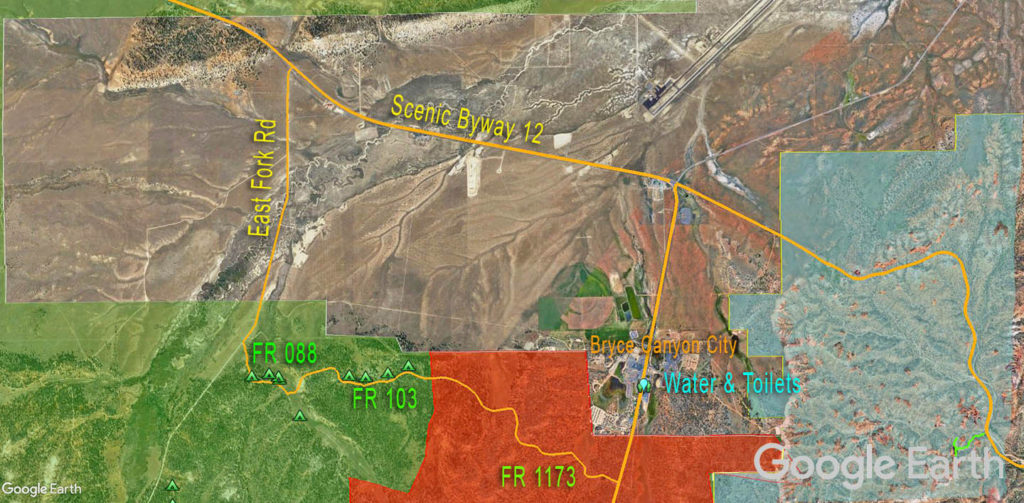 Verizon has reasonable LTE service at these campsites.
Free Camping in the Tom's Best Spring Road Area
Many will say this is the best area to camp and I agree. There are countless campsites for every need and with easy access to Bryce Canyon NP and Red Canyon.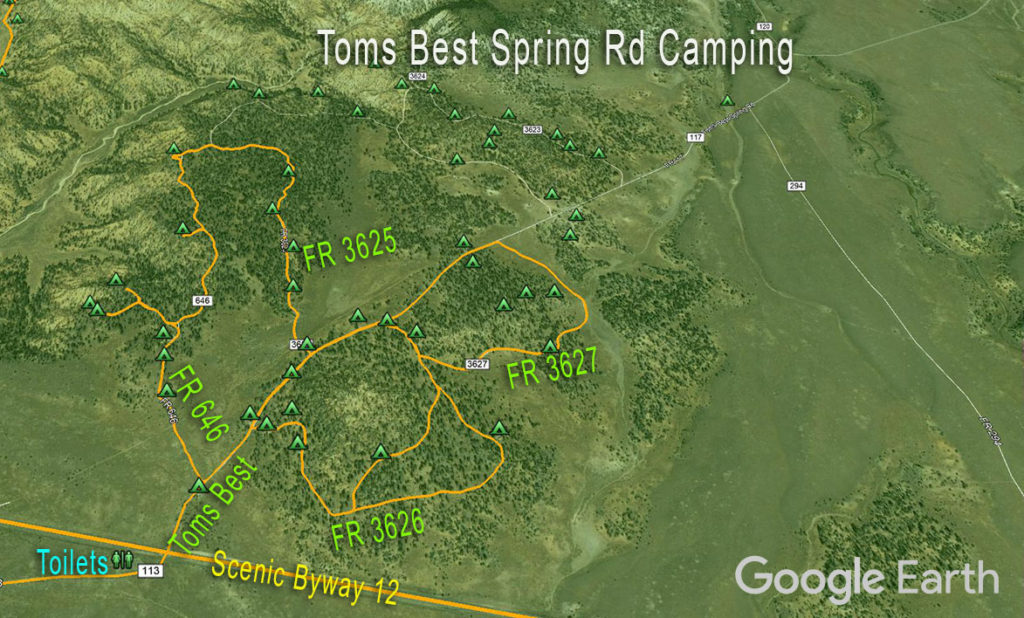 Note the Pit Toilets across the road when you turn onto Toms Best Spring Road! This makes camping here very convenient! There's no water, however. The closest free water is at the Red Canyon Visitor Center.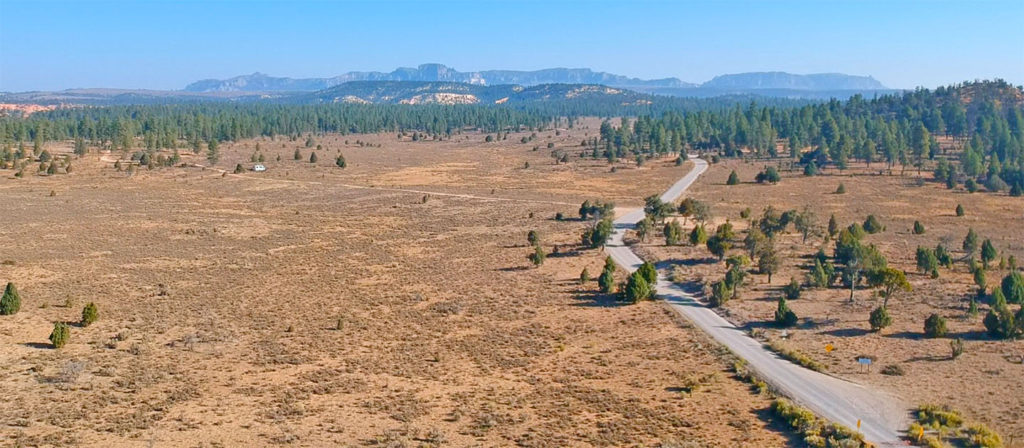 There are many campsites and several access roads not shown on my maps. Basically, there are 5 loops to consider. Most folks prefer the first 3 loops closest to Byway 12.
Loop 1 (FR646-FR3625) branches to the left (west) of Toms Best Rd.
Loop 2 (FR3626) goes to the right
Loop 3 (FR3627) is also on the right a bit further down Toms Best Rd.
There are two more loops further away (you can see the campsites on the map) but let's focus on the closest 3 in this guide.
Larger RVs tend to prefer Loops 2 and 3. The roads are dusty but easy to navigate. Loop 1 offers excellent views and is perfect for Vans and 4WD vehicles. The roads are rougher but 2WD vehicles should be OK in most weather conditions.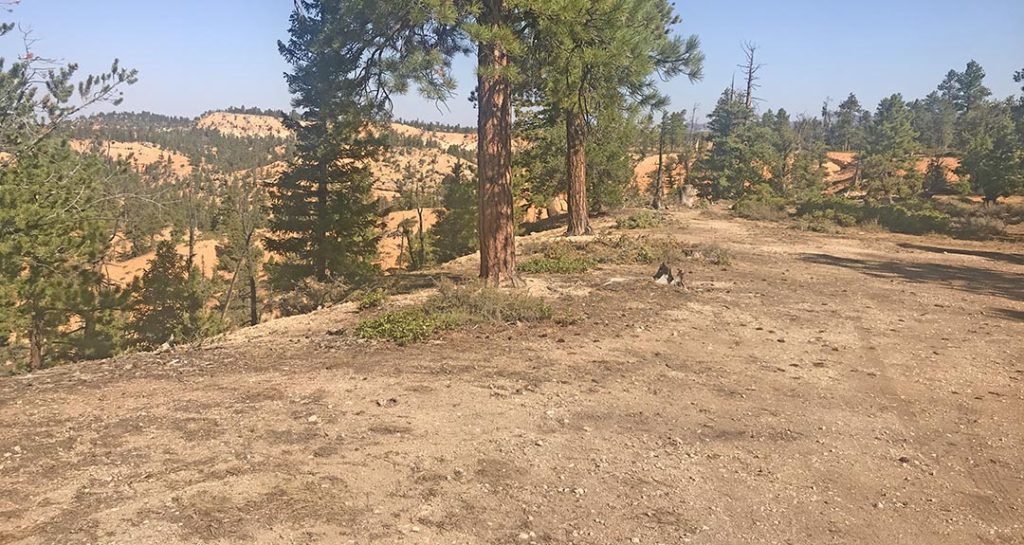 Verizon has reasonable LTE service at these campsites.
Free Camping along Corral Hollow Rd
This area is perfect if you plan to explore both Bryce Canyon NP and Red Canyon.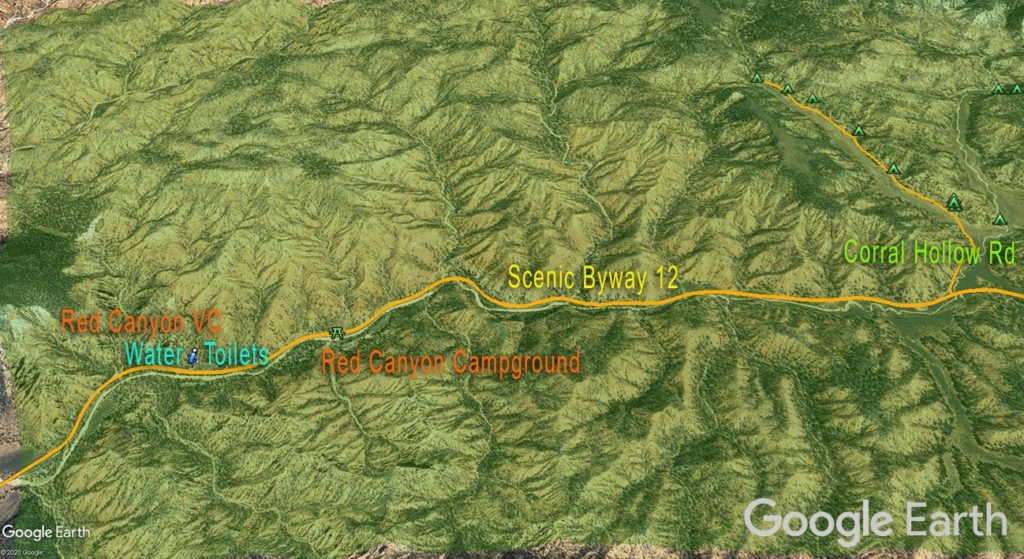 There are at least 10 or so campsites along Corral Hollow Rd (doable in most vehicle types).
The campsites begin after 0.5 miles. There is a campsite to the right, 3 campsites straight ahead (on a slope, however) and the rest is to the west as you continue the drive.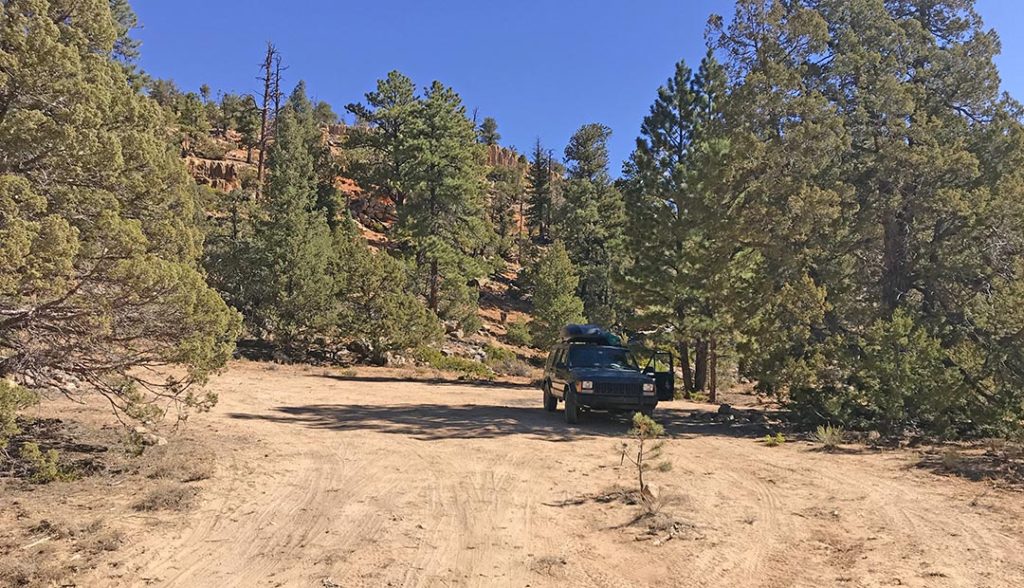 Closest free water and toilets are at the Red Canyon Visitor Center.
Verizon has reasonable LTE service at these campsites.
Precise Campsite Locations and Recommendations
If you want GPS waypoints and my personal recommendations for free campsites, please consider becoming a Patron (Supporter) of my work for a small monthly contribution!
https://www.patreon.com/letseeamerica
The reasons are:
Many travelers want dispersed camping to remain "secret". In their opinion, these free locations will become overrun with campers if one discloses too much information.
I disagree! Let me explain.
I understand the visitation impact of COVID-19 on Public Lands. We are told to go outside and enjoy nature as a safer alternative to indoor activities. The result is obvious – there are more folks camping and there is more trash and land damage to deal with.
Popular dispersed camping areas are near capacity on most nights – leading to frustration for full-timers who depend on free camping in order to travel on low budgets.
The truth is – information about dispersed campsites are freely available. There are phone apps showing locations, many websites do the same and Rangers will gladly share tips about where to camp for free in their Districts!
So the issue is not about sharing dispersed campsite locations with the public. It's happening already.
In my opinion the REAL challenges are:
1. Education – how do we educate the general camping public about the importance of camping etiquette on Public Lands?
2. Spacing – how do we get folks to spread out and explore locations further away from the major access roads and crowds?
3. Amenities – how do we convince the Public Land authorities to provide more toilets, potable water, and trash bins?
My Contribution
I share general information about dispersed camping to the public because I believe it is educational (at the very least it helps to prevent illegal camping and it helps with spacing when folks know where more campsites are located).
To further assist with spacing, I do not share the locations of my favorite campsites or recommendations with the general public. I am trying to prevent people from rushing to the same few free campsites (the very best ones) around the country. This information is only available to my patrons.