The U.S. Army Corps of Engineers is a large federal provider of outdoor recreation with more than 400 lake and river projects in 43 states! Their campgrounds are extremely popular with campers. Unfortunately, there are only 3 recreation areas in Florida.
In this article, I cover the Army Corps of Engineers camping in Florida. Please note – USACE camping is NOT FREE. In fact, it is NOT CHEAP either with sites costing $30 and more for electricity and water. But as stated above these campgrounds are beautiful and much loved by campers nationwide. For this reason, I decided to include them in this camping series.
(Feature Image – Ortana South Campground – Courtesy Recreation.gov)
Organization of Public Camping in Florida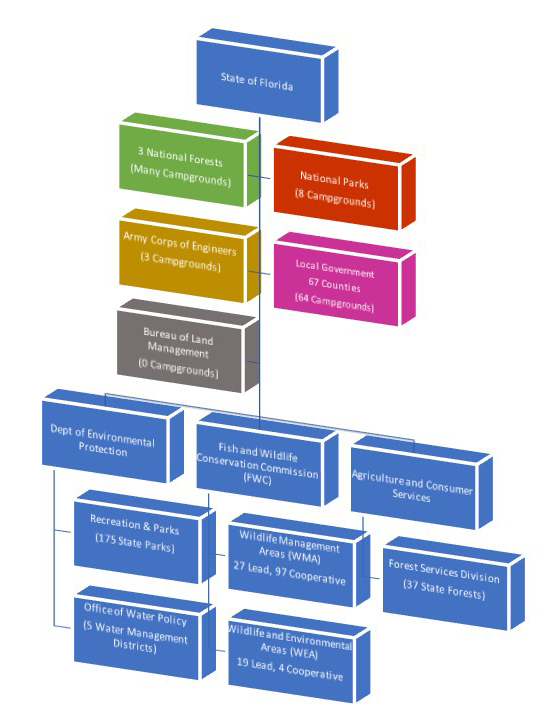 As described in the first article of this series and in the org chart above, there are three Army Corps of Engineers recreation areas in Florida. They are: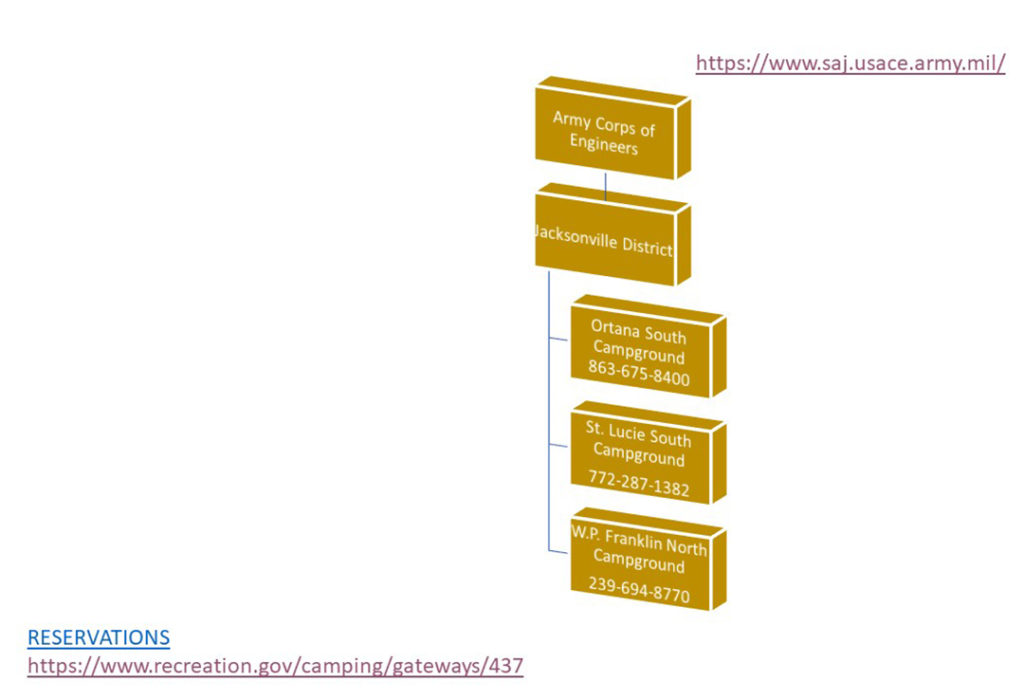 Information and Booking
I will soon post a video review of each campground. In the meantime, here are the three best sources of information:
USACE Lake Okeechobee – informative website describing the USACE Recreation opportunities at Lake Okeechobee. Here you will find directions and information about facilities and amenities.
USACE Lake Okeechobee – The USACE Lake Okeechobee Mission Pages. Detailed background information about the area.
Recreation.gov – excellent website with detailed information about the campgrounds including maps and photos. Official booking site for USACE campgrounds.
Recreation.gov
If you are unfamiliar with Recreation.gov, do spend some time exploring the site. It is the official portal for reservations, venue details, and descriptions of 12 Federal Participating Partners: Bureau of Land Management, Bureau of Reclamation, Bureau of Engraving and Printing, Federal Highway Administration, National Archives & Records Administration, National Oceanic & Atmospheric Administration, National Park Service, Smithsonian Institution, Tennessee Valley Authority, Fish and Wildlife Service, US Army Corps of Engineers and US Forest Service.
Free or Cheap Camping Map of Florida
This map shows each of the campgrounds or areas, grouped by color. For example, State Park Campgrounds (fee required) are shown as Orange, National Park Campgrounds (fee required) are shown in Red.
In Part 4, I write about National Parks in Florida and camping opportunities.
Return to Part 2 of this series
YES, Take me to Part 4!