Falls Ridge Falls is a spring-fed travertine waterfall about 80-feet (according to officials but I think it is lower) in height.
The calcium deposits make it very unique in Virginia.
Turn right (west) onto Route 603 (North Fork Road). Follow winding Route 603 for seven miles until you see a red private bridge on the left.
Turn left onto Falls Ridge Road; cross the bridge and railroad tracks. See the slideshow below for photos.
Immediately across the tracks, turn left onto a gravel road that follows the tracks briefly, then curves to the right and fords a small stream.
Just past the stream there is a fork. Bear left and park on the side of the road near the preserve entrance sign. (Do NOT go to the right up the hill!). The trails start across the open field.
Falls Ridge Falls can be found on this Google Map.
The hike is only 0.9 miles including a visit to the nearby caves. Once you reach the T-junction the falls will be just to your right as shown on the trail map below. I suggest you go to the falls first then continue with the loop towards the caves and back to your vehicle. On top of the hill is another small waterfall once you cross a small bridge. Very scenic!
Trail Map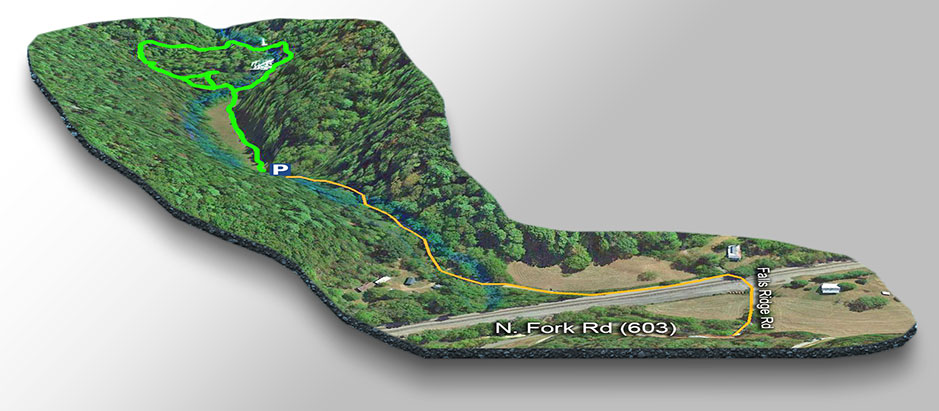 Trail Profile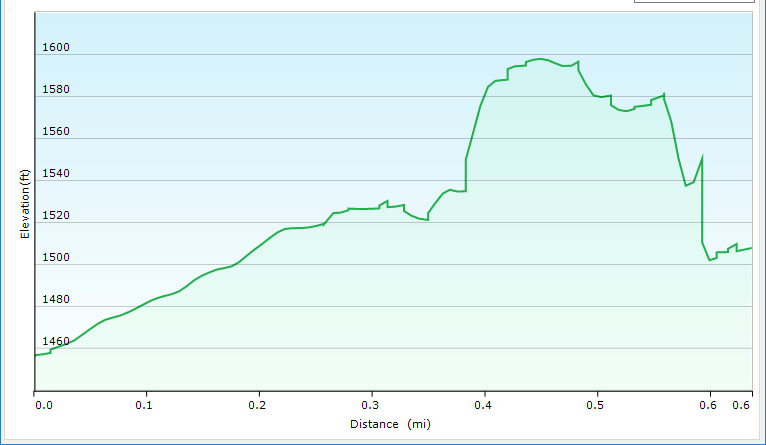 Video Slideshow of the Trail