Cruise Hotels Near Miami International Airport
Miami International Airport hotels are popular with cruise enthusiasts and business travelers alike, often for similar reasons. In this article I discuss the most popular cruise hotels at or near Miami International Airport.
Most airport hotels are part of national chains, they are familiar, they are generally more affordable than Downtown hotels, it is easier to use frequent stay perks such as complementary nights and upgrades, airport transfers are free and PortMiami is just under 10 miles away.
It is busy around Miami Airport!
Do be aware the airport is always expanding and construction never stops around its perimeter. For example, in 2020 there are plenty of road and building activity on the east side near the MIA Rental Car Center.
TIP – While PortMiami appears to take about 15 minutes by taxi, give yourself about 30 minutes because traffic near the airport can be heavy.
Nothing interesting nearby
With the exception of the Blue Lagoon area on the south side of the airport, do not expect much in terms of scenery and landscaping. The airport is surrounded by industrial buildings, lower-income housing and busy highways.
VERY IMPORTANT – Miami Airport Hotel Pickup/Drop Locations
Hotel shuttle vans have designated areas for pick/drop operations at the airport and it is your responsibility to go these areas. The vans cannot stop everywhere!
The pickup/drop location is downstairs on the Arrivals Level (1), at designated zones outside of baggage claim across from doors 1,2,3,4,7,15,20 & 23. Please follow signage at curbside to the "bus zones". You must use the crosswalks and walk across to the bus zones.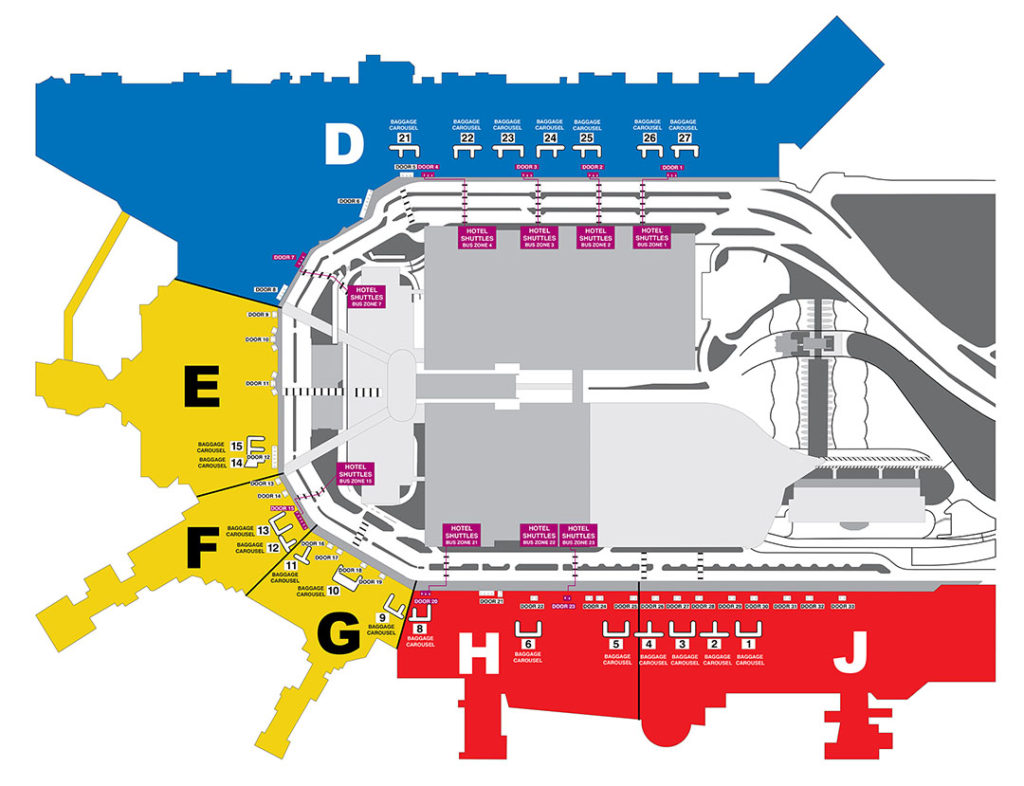 The Miami Airport Hotel Clusters
Before discussing the individual hotels and their locations, it is useful to understand the layout of the airport and general hotel areas. In other words, where are the clusters of hotels located?
Please refer to the featured image above as you read the next sections.
IMPORTANT – The photos below are not meant to showcase each hotel! These were taken to show the areas and neighborhoods and sidewalks and roads! It is about what you will experience when you walk outside!
Also, until COVID-19 restrictions are lifted, many standard and expected hotel amenities are restricted. No airport shuttles in many cases, no restaurant service, etc.
Miami International Airport Hotel
This popular airport hotel is located right before the security checkpoint on the 2nd floor in Central Terminal Concourse E. A great choice if you arrive late the night before your cruise!
Blue Lagoon Hotels
On the south side of the airport are several lakes in a office park/residental setting. This is the most scenic hotel cluster and if you want a more quiet setting in a leafy area then choose the Hilton, Homewood Suites, Pullman or Hyatt House .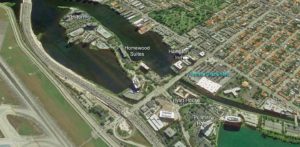 The Hampton Inn is nearby but on a very busy street corner however you will be across the street from Airpark Plaza Mall with restaurants, Publix, Starbucks and other shops.

You can easily walk to this Mall from Hyatt House but Homewood or Pullman (0.5 miles) and especially the Hilton (0.8 miles) will be a bit far in the Florida heat.




Lake Mahar Hotels (marketed as Blue Lagoon properties)
To the west of Blue Lagoon near the SW corner of the airport, this area is being upgraded with new residential apartments. It is also home to several hotels but there is nothing within easy walking distance unless you stay at the Doubletree.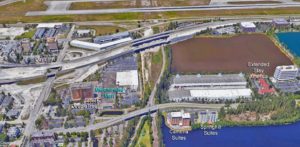 You will be traveling away from PortMiami if you overnight in this area, meaning a longer ride from the airport and also to the Port the following day.

Springhill Suites and Cambria Suites offer lake views from the south-facing rooms while Extended Stay America has a few north-facing rooms overlooking Lake Joanne.

The Doubletree and Days Inn are surrounded by highways and airport roads! But the Doubletree is connected to the Miami Merchandise Mart – an interesting indoor outlet-type shopping center. Reviews are mixed so check the website before going!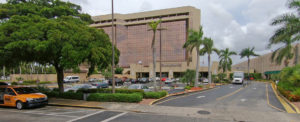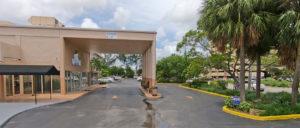 Doral Hotels
Be aware these hotels are in the "wrong direction" meaning you will be driving away from PortMiami should you stay in Doral. This makes for a longer ride from the airport to the hotel and to the Port the next day.
A dozen or so hotels are located in the Doral area NW of the airport. But first, let's travel a short distance south along the Palmetto Expressway to 25th Street where you will find an Extended Stay America next to the highway.
Next door to the hotel at The Shops at MICC are pretty good local eateries, especially La Crema De Las Empanada (even better if you enjoy Venezuelan food)! I mention this because folks often want hotels within walking distance of local favorites.
The Hotels
Returning north to the very busy corner of Palmetto and NW 36th St, you will find many hotels.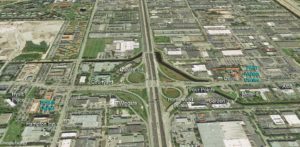 The Hyatt Place and Hampton Inn are next to Boykin Center, one of the better strip malls in the airport area. I recommend you consider these hotels if you want a decent selection of restaurants and shops within easy and safe walking distance. You may even run into Carnival Cruise Line employees at this mall because their corporate office is a few blocks west.


You can also walk to Boykin Center from Wingate, Courtyard and Quality Inn but you have to cross busy roads.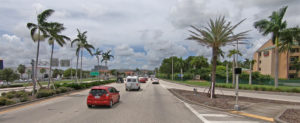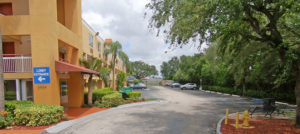 East of Palmetto a bit closer the airport are Four Points, Garden Inn and Homewood Suites in a secluded corner surrounded by highways and industry.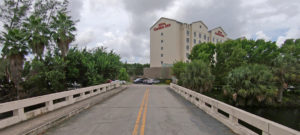 Their neighbor the Motel 6 is a bit closer to the West Airport Shopping Centre but you have to cross the very busy NW 36th St., making these hotels somewhat isolated.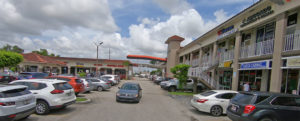 On the mall side of 36th St is La Quinta in a good location if you want to explore the strip mall but frankly do not expect much.

Aloft Hotel is across the street a bit further east with nothing nearby except for Chipotle.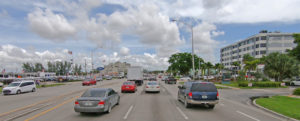 Airport North Hotels
More than a dozen hotels line the busy NW 36th St close to Miami Springs. In general the room rates are lower in this cluster so you may want to start here if you want to stay as cheap as possible near the airport.



Nothing stands out in terms of restaurants or shops. You can buy liquor and wine at Airport Café and Liquors (they do serve good food too!) but it may be many blocks from your hotel. Be careful after dark.



The north-facing rooms of Best Western and Sleep Inn overlook a golf course making them a bit more attractive.
Airport East Hotels
This is a popular area on the PortMiami side of the airport – divided into hotels north of the MIA Rental Car Center and hotels south of the Center.
Unfortunately, this area is industrial and does not offer much in terms of shopping, restaurants and activities. Higher floors do have good views of the airport terminals and the Downtown Miami skyline.
On the NE corner of the airport, the Red Roof Inn, Hampton Inn, La Quinta, Hyatt Place, Embassy Suites and Holiday Inn are isolated. Surrounded by busy highways there is nowhere to go unless you walk to the hotel next door!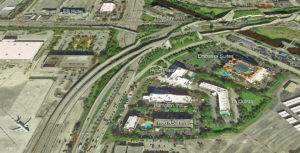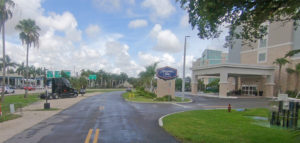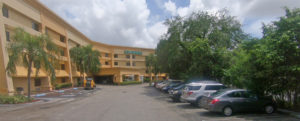 Surrounding the MIA Rental Car Center is a Holiday Inn Express, Element, Staybridge, Sheraton, EVEN Hotel and Radisson Red (upcoming). Nothing nearby however and walking is very inconvenient with all the industry, trucks and airport business traffic.
And it feels as if the aircraft is right next door! Exciting actually!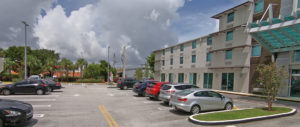 The Marriott Campus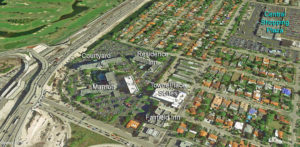 On the SE corner of the airport is a group of hotels commonly referred to as the Marriott Campus with a Residence Inn, Courtyard, Townplace and Marriott sharing a city block.
The campus is flanked by a lower-income residential neighborhood and a busy road – 42nd Avenue. There are security walls on the east and south sides. You can walk through the neighborhood to the large Central Shopping Plaza but I will avoid walking after dark.
This is a busy area!

Latin Café 2000 is on 42nd Avenue near the hotels and highly recommended!