If you book a cruise from Port Canaveral it is best to fly in at least one day early and overnight near the Port. Fortunately, there are many Port Canaveral hotels with park and cruise packages to consider. You can choose from hotels in Cape Canaveral, Cocoa Beach and further out in Titusville, Cocoa or Merritt Island. Hotels near Orlando airport are also popular.
In this article I provide an easy-to-use snooze-and-cruise comparison table for local hotels near Port Canaveral. I also provide a link to a local travel agency with excellent cruise packages.
Most cruisers look for one or more of the following when booking a hotel:
Breakfast
Free and/or safe parking
Shuttles to/from the cruise terminals
Airport transportation to/from Orlando, Melbourne or Sanford
It is a time-consuming process to contact each hotel and ask about these requirements because their websites are confusing and often inaccurate. I hope the comparison table below will simplify your search!
How to use the Hotel Comparison Table
The table represents hotels in Cape Canaveral (home of Port Canaveral) and Cocoa Beach (next door).
Column 1 – Port Shuttle Service – Cost per person in a shared van, one way from hotel to port or back
Column 2 – Airport Shuttle – If available, cost per person in a shared van, one way from or to Orlando Airport
Column 3 – Hotel parking cost per vehicle per night during your hotel stay (not while cruising)
Column 4 – Hotel parking cost per vehicle per day while cruising (if available)
Column 5 – Breakfast cost per person (if available)
Blank entries – information is not provided (perhaps the hotel is new or the service is under review). Call the hotel direct to check!
NOTE – Due to Covid-19, hotel services are constantly changing. These tables show normal services. Please call the hotel to check!
Port Canaveral Cruise Hotel Amenities Comparison Table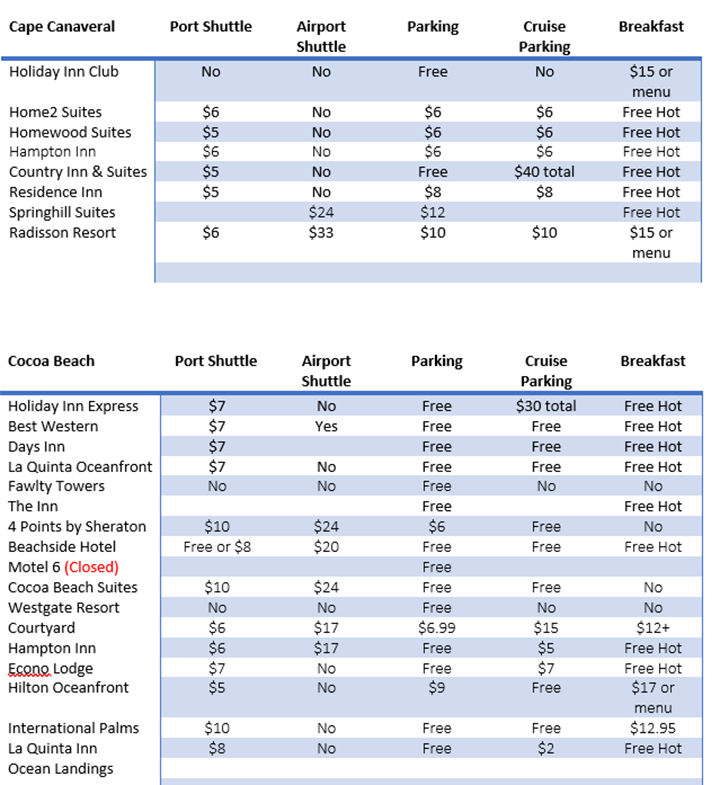 Port Canaveral Cruise Hotel Map
The location of each hotel can be found on my Port Canaveral Map. Go here to Open the Map
Hotel and Transfer Packages offer by a Travel Agency
If you prefer to have someone else take care of your pre-cruise snooze-and-cruise arrangements, look no further than GoPort! Go here to read more about GoPort.
TIP – I think GoPort offers good value for money and will review this company in an upcoming post. However, not all their packages are necessarily cheaper than booking direct with hotels and arranging your own transport. If you are looking to pay the least for your pre-cruise stay, I recommend you do some price research!