You can join the crowds in large cruiseline buses to the cruise terminal and pay $35 per person or more one-way, or share a shuttle van (8 to 14 passengers) for as little as $14 per person!
In this article I compare a dozen or so companies who offer shared transportation to Port Canaveral. Most use smaller vans, but a few have standard buses thanks to their popularity (eg. GoPort).
If you prefer private transportation, please know most of these companies will happily accommodate you. Just call.
NOTE – The comparison is for a one-way trip for 2 adults between Orlando International Airport (MCO) and the cruise terminals at Port Canaveral. Other itineraries are available (eg. between airport hotels and the Port) but I will cover those in a different article.
Shared Shuttles versus Private Shuttles
A private shuttle is booked for your party ONLY at your convenience in terms of date and time. You will have the while van for yourself. Generally, expect to pay $120 upwards for a private one-way transfer. If you want to pay less, consider a rideshare such as Uber or Lyft.
A shared shuttle to/from Port Canaveral operates on a timetable (perhaps hourly as shown below) on CRUISE DAYS ONLY. If you arrive a day before your cruise just call the company and ask if they have a shared shuttle available to your hotel. They may say yes if there are othedr passengers! Shared shuttles accommodate 8-14 passengers per van. Sometimes more, sometimes less. It depends!
Shared shuttles offer no or little flexibility. For example, if you want to stop somewhere to buy wine you are out of luck unless all others in the van want to do the same! Do not expect special treatment!
Departure Locations
The out-of-town vans and buses depart from MCO parking areas A15 or B15 – generally when the vans are full. Always ask about wait-times before booking so you do not wait a long time. "Generally" loading begins at 9am or later with hourly departures until the last transfer at 1:30pm.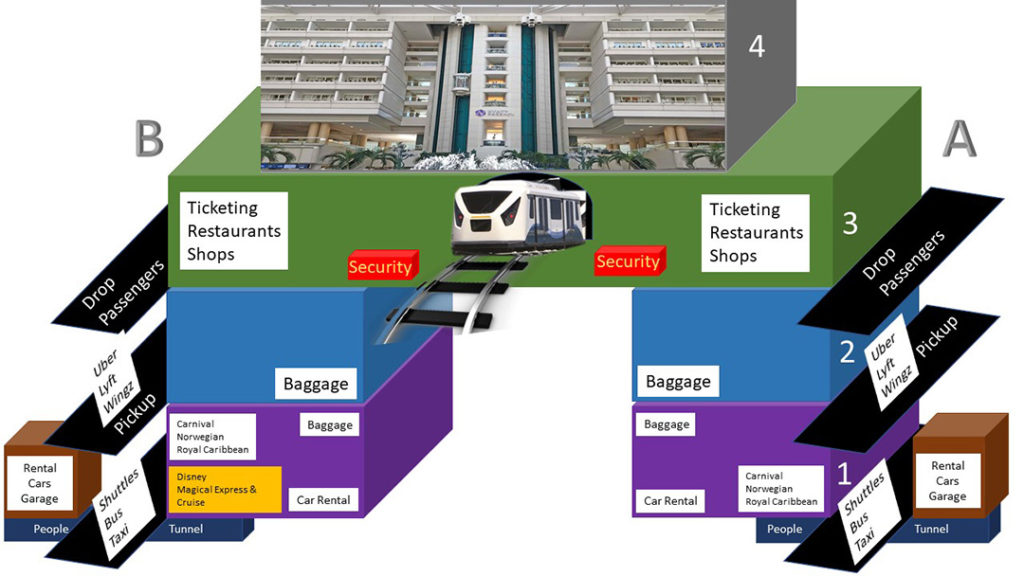 The Shuttle Companies
There are many transportation companies in Orlando and they come and go. The companies listed below are not immune to changes in the cruise industry and the current COVID situation may change the landscape once cruising return in late 2020.
NOTE – Some of these companies may not survive until September 2020 or whenever some normality return. Rates may change too. Please do your own research before booking.
TIP – I suggest to wait until the last moment to book a shuttle in case of cruise delays. The world is upside down right now and you may have a hard time with refunds from these smaller companies in the event of cruise changes.
I have seen all the companies listed below at Port Canaveral myself, so I know they are legit. Reviews are good and I know they try to deliver good service but as always – please do your own research!
Please know a 20% tip is expected for shuttle drivers; budget accordingly and have change available.
If you prefer to save this information, just "save as" the image below, or use the Links to each company's website in the 2nd table below!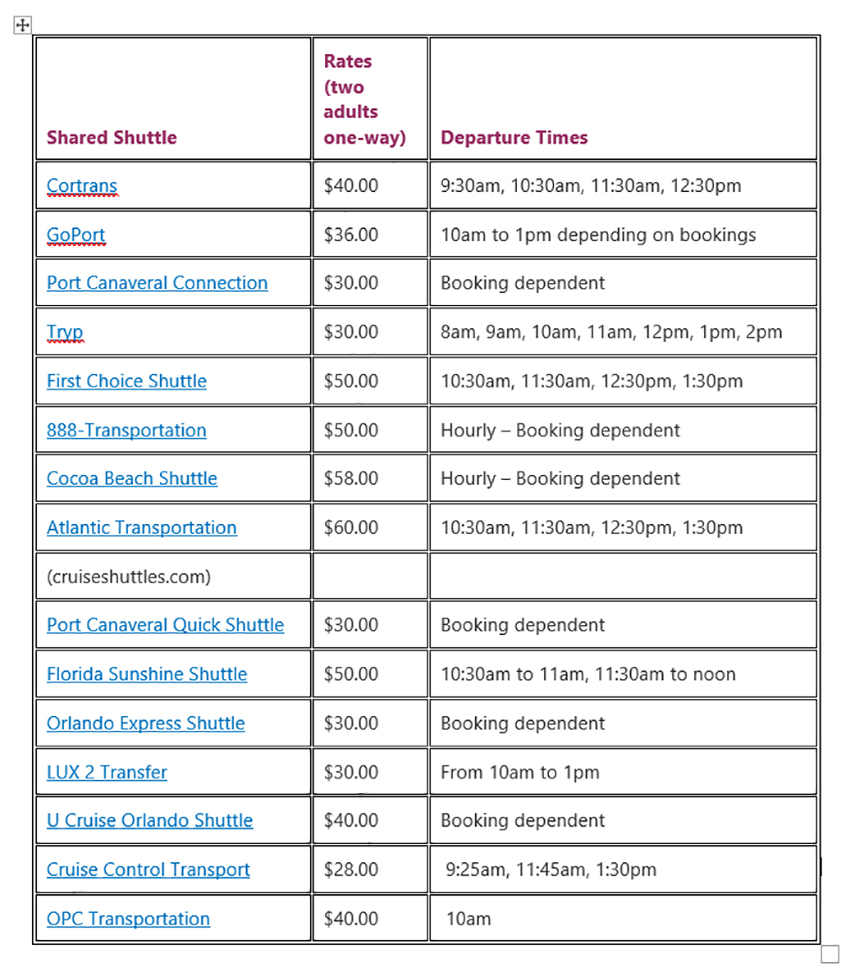 | | | |
| --- | --- | --- |
| Shared Shuttle | Rates (two adults one-way) | Departure Times |
| | | |
| Cortrans | $40.00 | 9:30am, 10:30am, 11:30am, 12:30pm |
| | | |
| GoPort | $36.00 | 10am to 1pm depending on bookings |
| | | |
| Port Canaveral Connection | $30.00 | Booking dependent |
| | | |
| Tryp | $30.00 | 8am, 9am, 10am, 11am, 12pm, 1pm, 2pm |
| | | |
| First Choice Shuttle | $50.00 | 10:30am, 11:30am, 12:30pm, 1:30pm |
| | | |
| 888-Transportation | $50.00 | Hourly – Booking dependent |
| | | |
| Cocoa Beach Shuttle | $58.00 | Hourly – Booking dependent |
| | | |
| Atlantic Transportation | $60.00 | 10:30am, 11:30am, 12:30pm, 1:30pm |
| (cruiseshuttles.com) | | |
| Port Canaveral Quick Shuttle | $30.00 | Booking dependent |
| | | |
| Florida Sunshine Shuttle | $50.00 | 10:30am to 11am, 11:30am to noon |
| | | |
| Orlando Express Shuttle | $30.00 | Booking dependent |
| | | |
| LUX 2 Transfer | $30.00 | From 10am to 1pm |
| | | |
| U Cruise Orlando Shuttle | $40.00 | Booking dependent |
| | | |
| Cruise Control Transport | $28.00 | 9:25am, 11:45am, 1:30pm |
| | | |
| OPC Transportation | $40.00 | 10am |