A detailed guide to the iconic and very popular Walt Disney World Monorail. See the monorail in action on our animated Google Maps in the video below!
There are 2 monorail routes:
EPCOT Route – a single line running in a clockwise loop between EPCOT and the Transportation and Ticket Center (TTC) .
Magic Kingdom Route – two separate lines connecting the Transportation and Ticket Center (TTC) with the Magic Kingdom. One runs clockwise and the other operates anti-clockwise as described below.
IMPORTANT SECURITY INFORMATION
You must clear security before boarding the monorail – either at each Resort or at the two Parks.
The Three Monorail Lines
Generally, the monorail operates from 30 minutes prior to the earliest Park opening until 60 minutes after the latest Park closure. As always, these times can change so please check with Disney staff for updates.
You must change tracks between the different Lines. Please look at the signs to ensure you enter the correct platform.
The Magic Kingdom Express Line – Only two stops. Magic Kingdom and TTC. Runs anti-clockwise.
The Resort Line – Five stops in this (clockwise) order. TTC – Polynesian – Grand Floridian – Magic Kingdom – Contemporary Resort – TTC
The EPCOT Line – Only two stops. TTC and EPCOT. Runs clockwise.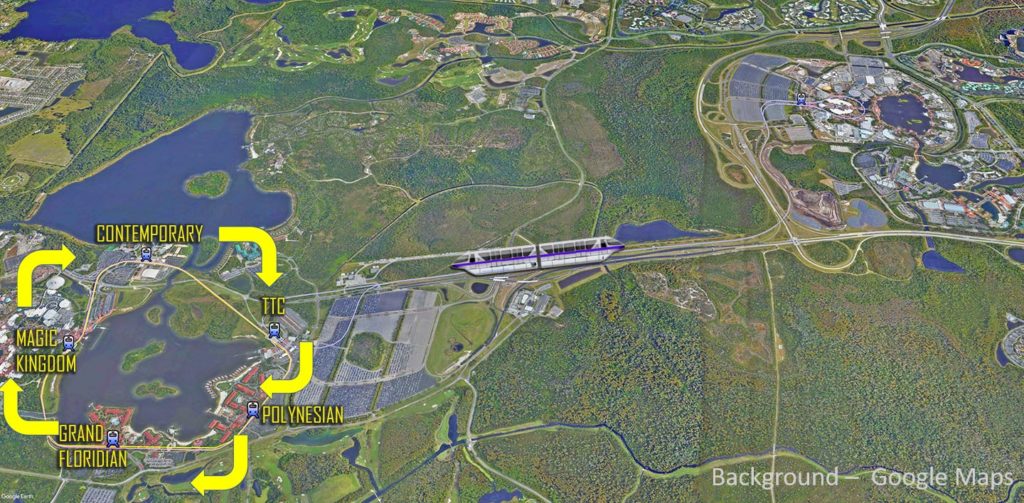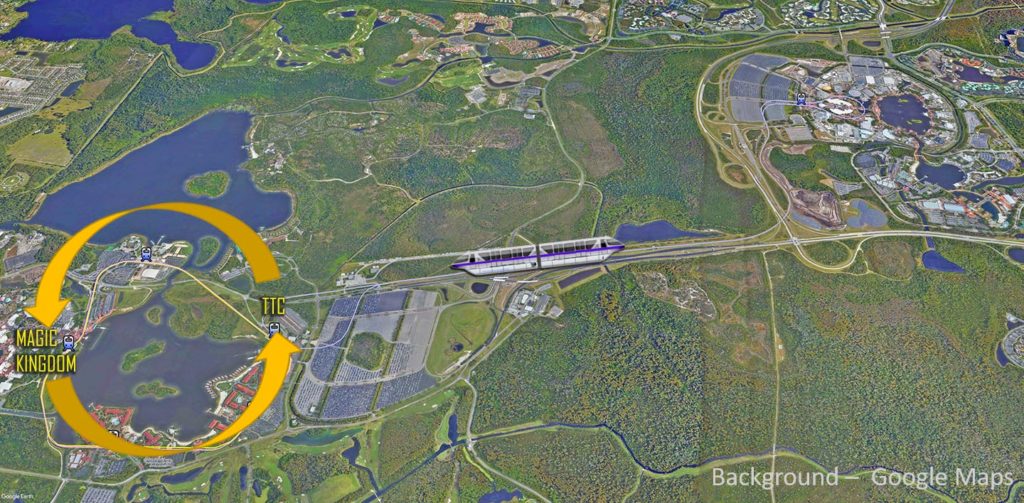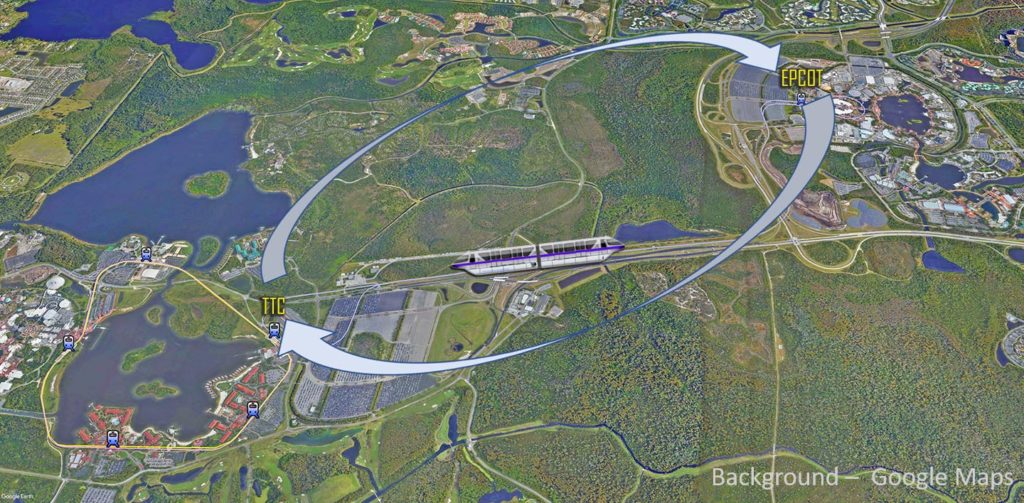 The Monorail Colors
Before departure, the announcement may say something like this – "Welcome to Monorail Blue". While interesting to some, the colors do not mean anything to the rider! At last count there are 12 monorails in service – each with a different color strip on the sides.
At times, Disney add signage to the monorail to highlight a new opening of a ride, movie or attraction!
Travel Times
These are approximate! Travel times vary due to unexpected maintenance tests (when the monorail starts and stops).
Clearing security, walking up to the platform, waiting in line and for slow passengers to get settled will take up most of your time.
EPCOT Line – Takes about 10 minutes each way.
EXPRESS Line – Under 5 minutes from the TTC to Magic Kingdom and about 6 minutes from the Magic Kingdom to the TTC.
RESORT Line – This depends on where you board and the number of passengers to load and unload at each stop! It makes no sense to ride the RESORT line unless you're heading to one of the Resorts. Let's just say this: A complete loop will take 15 minutes or more.
HELPFUL TIP
The Monorail Express Line to the Magic Kingdom is the most popular and lines are often much longer than the Resort Monorail Line. If you see a long line, just hop on the Resort Line!
Boarding Procedure
Rather simple! Disney staff are available to assist you with ramps in case you are in a wheelchair. Otherwise, just find a line to join behind a low gate that will open as soon as the monorail is ready for you.
Each air-conditioned cabin has plenty of seating and standing space.
Dependability
The monorail is showing its age and delays are fairly common. At times they do maintenance checks causing your car to run very slow or in a stop/go pattern. Sometimes the whole line is down for 30 minutes or so. I recommend you give yourself enough time to avoid frustration.
Monorail Resort Transport Alternatives
When you're staying at a monorail resort and the line is delayed, you either have to wait or try other ways to reach the TTC or Magic Kingdom. Your best plan of action depends on where you are!
Contemporary Resort:
Walk – it is a short and easy 5-10 minute walk to the Magic Kingdom on a smooth path.
Boat – not recommended if you are in a hurry because there is no direct service to Magic Kingdom. You can board the BLUE FLAG LAUNCH to Wilderness Lodge then change to the RED FLAG LAUNCH for Magic Kingdom.
Polynesian Village Resort:
Walk – It is an easy and short walk to the TTC from where you can take the Monorail Express Line or Ferry Boat (10 minutes).
Boat – The Gold Flag Launch operates between the Magic Kingdom, Grand Floridian and Polynesian (in this order) – 8 minutes to the Magic Kingdom
Grand Floridian Resort:
Walk – not possible unfortunately.
Boat – The Gold Flag Launch operates between the Magic Kingdom, Grand Floridian and Polynesian (in this order) – 20 minutes to the Magic Kingdom