Fort Lauderdale Airport FLL to Port of Miami via Tri-Rail and MetroRail offers the cheapest transportation options for cruise passengers. It may not be the most convenient but you do not have to deal with rush hour traffic and you can save a good bit of money.
How long will FLL to Port of Miami take?
The Tri-Rail section of the ride = about 30 minutes
The FREE shuttle bus from FLL to the Tri-Rail Station – about 15 minutes
The Green Line of MetroRail from MetroRail Transfer Station to Overtown Station = about 20 minutes
From Overtown MetroRail station to PortMiami via a rideshare service = about 10 minutes
Waiting Time? Add 30 minutes in total
Total travel time = about 1h45mins
How much will FLL to Port of Miami cost?
In 2019:
$3.75 for Tri-Rail + $2.25 for MetroRail (discounts for certain payment methods) + $7 for Uber = $13 or $9.50 per person when two travel together.
By the way, if you want to avoid MetroRail, Uber from the Tri-Rail/MetroRail Transfer Station to the Port of Miami cost about $17 and will take roughly 30 minutes.
Once you arrive at Overtown Station, you can save even more money if you use public transportation such as the FREE Metromover and Coral Way Trolley (to PortMiami), but this will take too long and you may end up a long way from your cruise terminal.
How does Tri-Rail compare to other transfers?
With two people traveling, a taxi or private sedan fare from FLL is roughly $40 per person, a shared shuttle about $25 pp and Uber roughly $20 pp. Then consider the tip as well.
A road transfer takes 45 mins to an hour but is very traffic dependent.
Route Map
In the map below you can trace the complete route from FLL to PortMiami. For a larger map, go here: FLL to PortMiami Route Map
Tri-Rail from Fort Lauderdale Airport
Please read my detailed description of how to ride Tri-Rail from FLL to Miami Airport MIA. BUT – this time please choose the Tri-Rail/MetroRail Transfer Station as your destination and not MIA!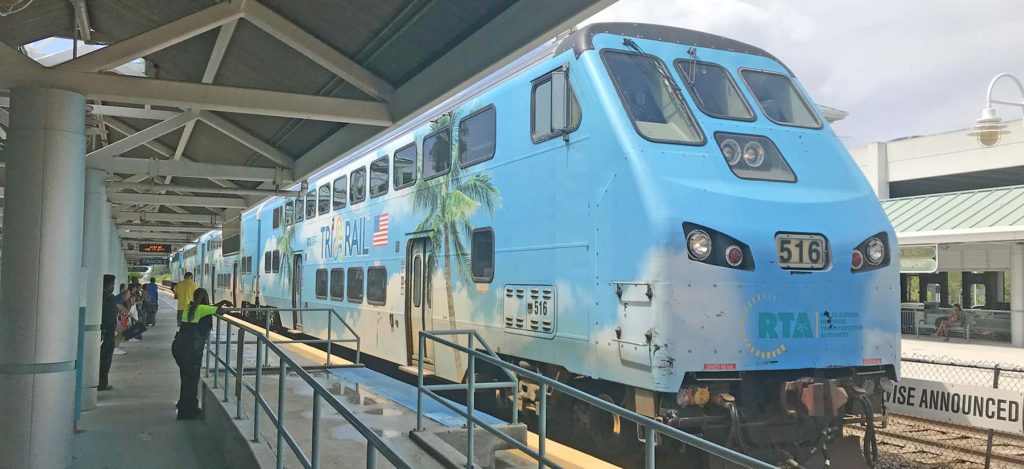 Arriving at the Tri-Rail/MetroRail Transfer Station
Exit Tri-Rail and look for the Green Line MetroRail train going south to Overtown MetroRail station! Buy a ticket at the kiosk (you will need an EASY Card or EASY Ticket for a discount transfer fare). An attendant is available to assist you with tickets during the day but hours are limited!
The ride to Overtown takes about 20 minutes.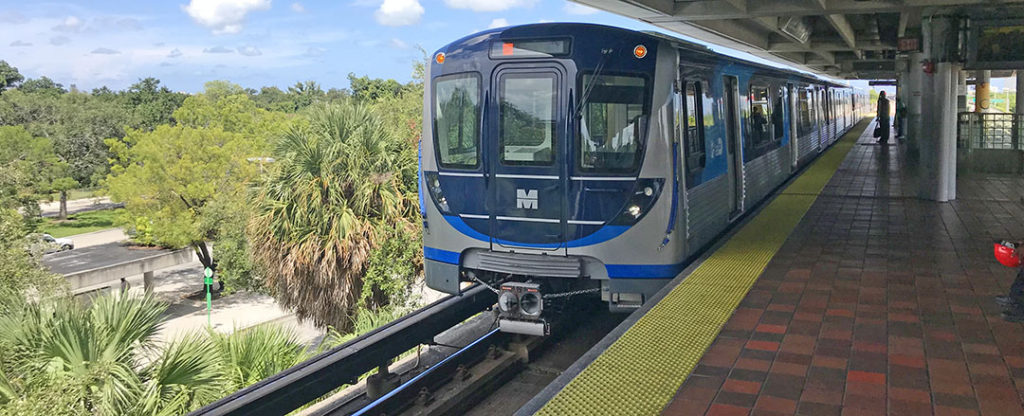 Arriving at the Historic Overtown/Lyric Theatre MetroRail Station
I suggest to arrange your Uber or Lyft ride while a few minutes away from the station! This way you do not have to wait long.
Tell your driver which cruise line/ship and/or the terminal (if you have this information).
The ride should take about 10 minutes depending on traffic conditions.