Car Rental at Port of Miami can be confusing because there are no rental car offices at the cruise terminals! Here is what you need to know:
Let's assume you arrived at PortMiami and cleared customs. How do you get to your rental car?
Use the free shuttle from your rental car company. But be aware only a few rental car companies offer free shuttle from PortMiami. Those are listed below.
User a taxi or rideshare (Uber/Lyft) to the rental car office of your choice. I highly recommend you go to the Miami International Airport Rental Car Center where you have a much larger choice of companies and vehicles.
If you use the free shuttle service, you will end up at one of two places – Downtown Miami or the Miami Airport Rental Car Center. Please look at the map below.
Hertz, AVIS/Payless and Budget shuttle vans will take you to their downtown offices. You will NOT be taken to the airport location!
National, Dollar and Thrifty shuttle vans will take you to the Miami Airport Rental Car Center. You will NOT be taken downtown.
That's it – you have NO other choices!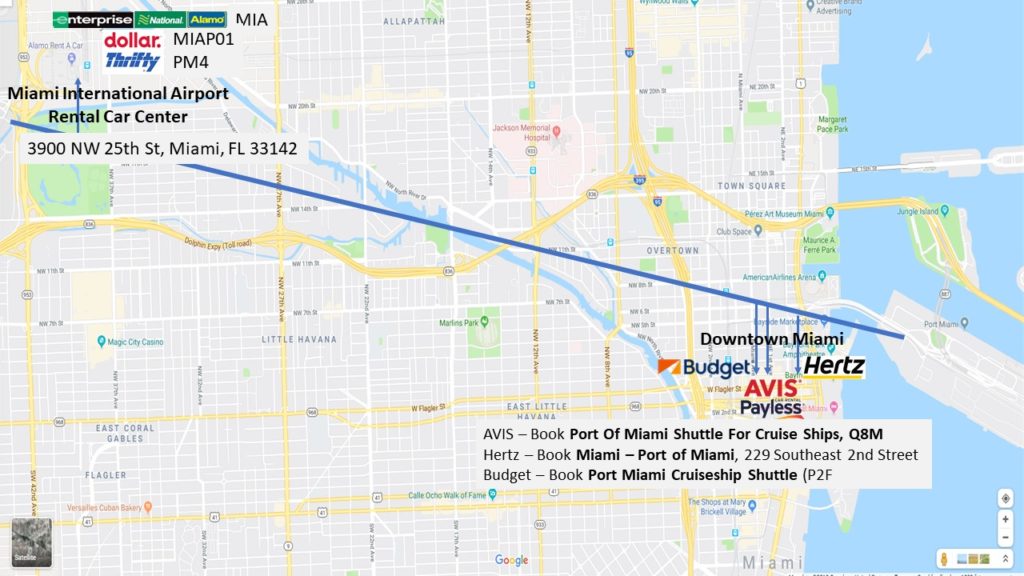 Be aware the Downtown locations can get busy when there are several ships in Port at the same time. It is a shorter ride to Downtown but you may wait longer in line to get your vehicle.
If you are intimidated by the idea of driving in Downtown Miami, DO NOT BE! It is actually very easy to navigate. The airport area is rather busy and confusing with toll roads and major highways to consider.
Experienced cruisers prefer the Miami Aiport rental car location because all the rental car companies are represented and the process is generally easier and less frustrating than dealing with smaller offices!
Good luck with your car rental at Port of Miami experience! Here is more information about the Miami International Airport Car Rental Center.