Understanding your options for free camping on BLM land is a key requirement for budget-minded and secluded travel across the Western States of America.
Unlike National Forests (another popular free camping option), BLM boundaries can be much more challenging to figure out! It is not uncommon to find "private – no entry" signs on land that appears to be public (depending on the map you're looking at). There are even internet reports of harassment from local landowners when campers are clearly on BLM land!
It is really up to each camper to thoroughly research each BLM District in question. When in doubt, please visit or call the nearest BLM District office for clarification.
COVID-19 Challenges – Policies are different in every state. Please the BLM website for updated information. https://www.blm.gov/locations
In this article, I offer tips and ideas to help you navigate the basics of free camping on BLM lands!
What is the Bureau of Land Management (BLM)?
Simply put, it is an Agency within the Department of the Interior responsible for administering public lands as shown in the diagram below.
The diagram also shows the States where BLM operates (including all the Eastern States) as well as two websites – one for information and one for booking.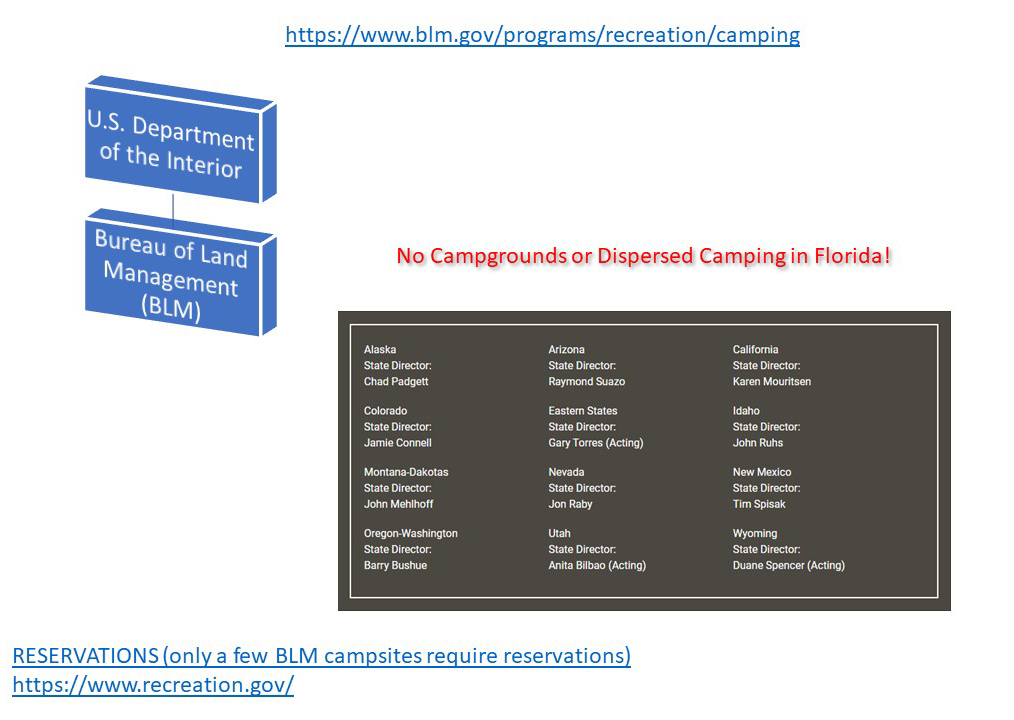 Where does BLM operate?
Nationwide as shown above but in terms of camping, most of the opportunities are west of the Mississippi River.
The image below illustrates the distribution of BLM land quite clearly.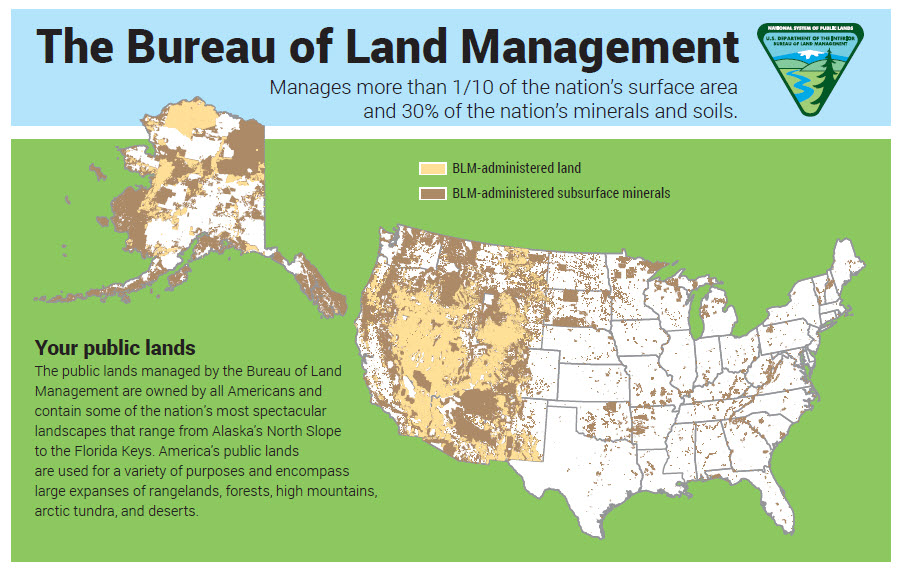 How to find BLM Campgrounds and sites?
There are mainly three styles of camping on BLM land –
Campgrounds – developed camping areas with amenities of some kind! Most are fee-based. Many (most?) are first-come-first-serve, meaning you choose an available campsite and pay a nightly fee. Some sites can be pre-booked online (link below).
Dispersed – Mostly free and without amenities. You scout the BLM land and set up camp away from developed campgrounds. BUT, dispersed camping does not mean you can set up camp anywhere you want. There are basic rules for each particular land (you can generally stay free for 14 days per month).
Managed Dispersed – In popular locations, the rangers may mark or number the dispersed sites in order to manage crowds and land erosion. You can only camp in those marked sites.
To find developed campgrounds, you have two options:
Use the search box on the BLM website. Go Here to Search for BLM Camping.
Use a third-party website (See my list of recommended sites for FREE camping.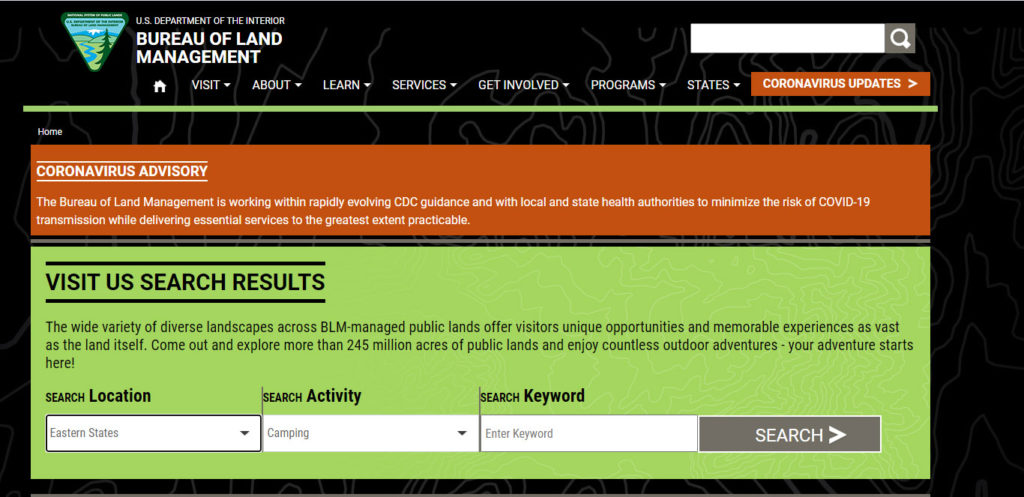 To book a reservable site in a developed campground, Go Here to Book Using Recreation.gov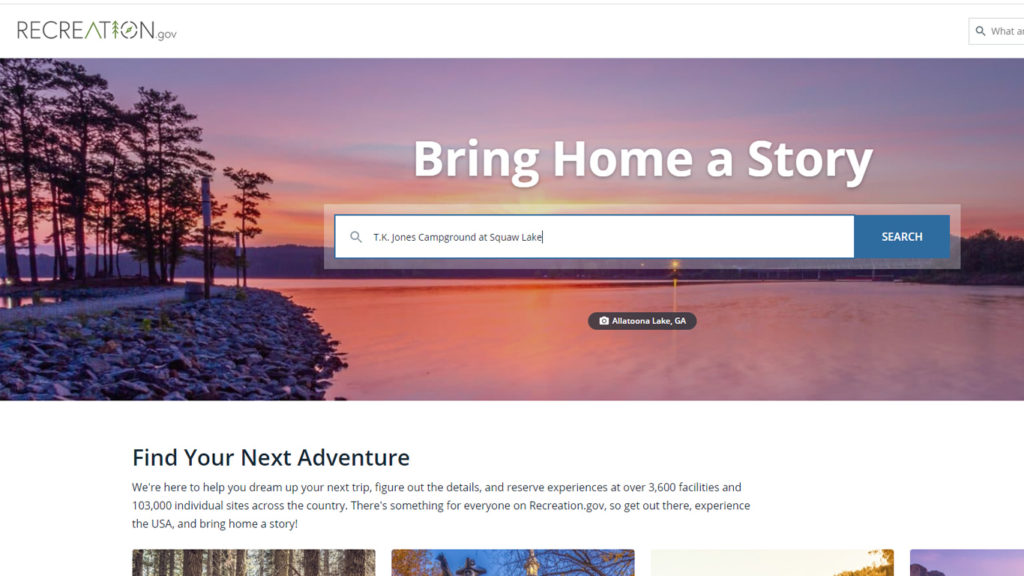 Experienced campers often go straight to Recreation.gov because they know what they are looking for and how to navigate this useful site! I will write a future article to share tips and tricks!
To find dispersed campsites you have several options:
1. Third-party websites (mentioned above) are your best friends. The dispersed campsites listed on their maps often have fire rings and you can expect those sites to comply with local rules (such as distance from water sources, etc). Unfortunately, when sites are easy to find and listed everywhere they tend to get busy!
Two notes of caution:
a) third-party websites are often inaccurate because they depend on input from the public. This works great in most cases but sometimes folks camp illegally (knowingly or not) and then share the locations! Or they mess up the GPS waypoints!
b) directions and road conditions may change! Study your GPS, know the off-road capabilities of your vehicle, and do not overestimate your driving skills.
Many full-time road warriors use free dispersed camping and their Youtube videos are fun and informative if you're interested. I provide detailed information on this website and on my Youtube channel – Lets-See-America
2. To avoid the crowds, experienced gypsies do their own research using Google Maps and Google Earth to scout for new dispersed camp spots in advance. To avoid getting into trouble with rangers, they educate themselves with land boundaries and local rules. If you want to do the same, please adhere to "Leave-no-Trace" principles and do not unintentionally "develop" new campsites.
3. Visit or call local BLM District Offices and talk to the Rangers! They will explain the local rules and direct you to approved dispersed camping areas.
Arriving on BLM lands
Many areas have signs next to the highway indicating the start or end of Public Lands. Look for this signage:
Recreation areas may have information boards indicating allowed activities and camping rules.
Here is what I do after arrival:
I do my best to arrive before 4 pm in a new area. Searching for a site after dark is no fun.
I study my paper and/or online maps to ensure I stay within the BLM boundaries.
I look for information boards (see image above). Those are really helpful but rare!
I pick an unoccupied site using basic common sense (away from other campers for example)
I clean the site – broken glass, trash, etc. You do not want to ruin your tires or cut yourself during your stay.
I walk the neighborhood just to see who is near and what escapes routes I have in case of emergencies or danger. I generally park my vehicle pointing towards the road for a faster getaway!
Finally, read or watch my BLM camping posts and become a Patreon!
I stay mostly on free Public Lands and write often about my experiences! These articles are sorted by State.
I provide clear directions with accurate GPS coordinates and post photos, video, and drone (aerial) video of each location.
If you want my personal tips and opinions, please become of Patreon of my work! For a small monthly contribution you help fund my research expenses and you gain access to exclusive information about travel destinations such as the best (or worst) sites in a particular BLM area!
Patreon Page – Lets-See-America